Violinist and music therapist Joy Gravestock describes a typical day in her field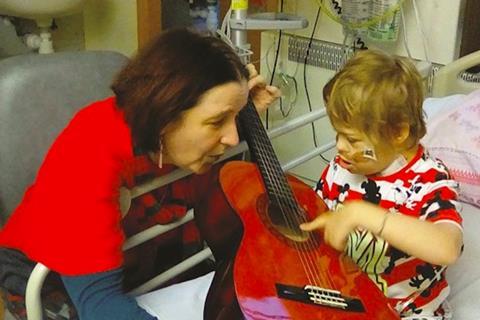 The following is an extract from The Strad's Music Therapy feature in our May 2020 issue. To read in full, click here to subscribe and login.The May 2020 digital magazine and print edition are on sale now.
I drive to a local children's hospital, my car filled with a variety of instruments. There I see Lianne, whom I've been working with since she was three, and she's now nearly nine. She is adopted and has a diagnosis of Down's syndrome as well as many additional related health problems. Primarily, though, I am working with her because of difficulties she has with attachments and relationships as a result of losing her birth family. Although she is currently in a critical care ward, we always manage to make music together! Today, she is undergoing some difficult medical procedures; in order to make her less troubled by these, I am able – at a simple level – to play music with her and thereby distract her. As I play guitar, Lianne picks up a small children's accordion and invents her own melody and words, and we enjoy singing her very own composition! Later, though, our session becomes more intimate and focuses on the issues that brought her to therapy. Lianne has a special song which she insists I play on the violin – a song whose significance for Lianne's own life story her (adopted) mother and I both recognise. As we sing and play, Lianne is able to integrate difficult aspects of her early life into her present life. Over the years that I have worked with Lianne, her mother has noticed huge improvements in the way she is able to relate to others, and sees these as stemming from her music therapy relationship with me. I make some notes when I leave the ward, as it is essential to reflect on every session.
After grabbing some lunch, I drive back nearer home to see Georgina, a 20-year-old young woman with whom I have worked for some years. She experienced severe birth trauma and as a result has multiple profound physical and learning difficulties. She has no speech and all aspects of her communication are compromised owing to the significance of her disability. However, Georgina knows how to communicate through music! Her mother has often called music Georgina's 'first language'. Even as I am unloading my instruments and setting them up around her bed, Georgina is vocalising loudly and smiling. As she has limited movement, I need to think carefully about which instruments she may be able to access. We enjoy moving a set of chimes across her hand and arm as she feels the texture of their cool metal. The chimes require little effort to make a significant and penetrating sound, and Georgina enjoys making her presence felt in a big way. We also use a Tibetan singing bowl, because Georgina feels its resonance deeply through her body. As she experiences considerable and continual pain, the singing bowl can provide her with a different embodied experience. Finally, I choose to use myviolin, the sounds of which are so close to those of vocalisation. Thus, Georgina duets with me vocally, making her own sounds which are in tune with those of my violin. She leads the way, and I match and mirror her vocalisations tonally, trying to create bow strokes that have a breath-like quality.
All names and details pertaining to clients have been changed to protect confidentiality. Composite clients have also been used to ensure anonymity.
To read the full article about music therapy in our May 2020 issue, click here to subscribe and login.The May 2020 digital magazine and print edition are on sale now.
This article was published in the May 2020 130th Anniversary issue

The Strad marks its 130th anniversary with a look at the future of string playing and the violin industry. Explore all the articles in this issue.

More from this issue…