Advice on how to nurture beginner learners from The Strad's Archive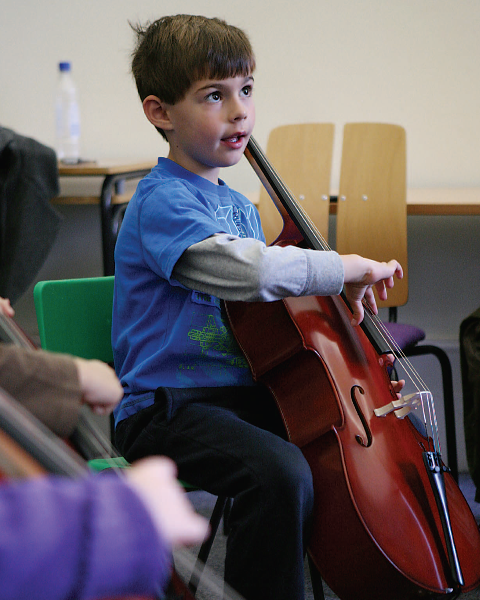 I ask all potential students and their parents to observe six beginner-level lessons before they start. This way the child and the parents can see what will be required of them, and I can judge whether the child has the ability to focus for a half-hour lesson.
Teri Einfeldt, 6 tips for teaching young violinists by Suzuki instructor Teri Einfeldt, The Strad, February 2012
Opinions among teachers vary on the earliest age a child should start playing: some say three, and others four, five or six. Most teachers agree, however, that before starting on an instrument, children should take part in some kind of preliminary musical activities involving games and movement, or should even just come to watch classes.
Tim Homfray, The Strad, September 2009
Children who begin young with individual lessons may acquire some string skills sooner than those experiencing varied group activities, but they miss out on many crucial developmental steps.
Of these, perhaps the most important is the acceptance of music as a way of making friends. A more relaxed, shared approach also brings about a gradual increase in confidence in the building blocks of making music.
Sheila Nelson, The Strad, February 2007
When you start to teach the violin to a child, bear in mind that both their hands should be active from the very first lesson. Otherwise, the idle hand can create tension in the active hand.
A child can concentrate consciously on only one new thing at a time, and during the first lesson it should be the violin hold. The teacher should assist the bow hold and movement so that the child experiences it unconsciously.
Géza Szilvay, Teacher Talk, The Strad, January 2011
When my young violin pupils graduate to the bow, I show them how to hold it at the balance point and I would recommend that you loosely wrap a duster round the stick so that his fingers (and especially the thumb) remain soft and flexible.
Boys' fine motor skills are slower to develop than those of girls, and it isn't helpful to do too much too soon. I recall seeing Sándor Végh teaching sautillé bowing to an advanced student with a duster wrapped around the frog, so that the bowing hand was large and soft with nothing too fixed.
Simon Cartledge, The Strad, January 2016
The teacher should be interested in what his pupils read. It is a very good plan to have a stock of books which he can lend to them. To lend a Sherlock Holmes tale, illustrated with a picture of that genius playing his beloved violin, will capture the heart of most pupils. Additional throbbing interest may be given by playing what Holmes declared to be the most beautiful air in the world: the 'Barcarolle' from 'The Tales of Hoffmann.'
Sid G Hedges, The Strad, June 1923
Small-sized violins are available for reasonable prices today. If the family can afford it, it is advisable to purchase the instrument instead of borrowing or hiring it. The intimate relationship between the violin and its young master should start with the first tiny fiddle. It is desirable that children are fond of their instrument as if it were a dear toy, but at the same time they should learn to respect the violin as one respects a friend
Géza Szilvay, The Strad, October 2011
Photo: Belinda Lawley