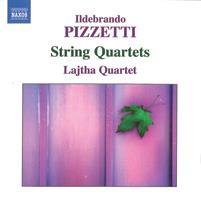 The Strad Issue: January 2011
Description: A generally enjoyable introduction to the music of a neglected Italian composer
Musicians: Lajtha Quartet
Composer: Pizzetti
On this showing, the Respighi contemporary Ildebrando Pizzetti (1880–1968) has been unjustly ignored. The sunny String Quartet no.1 was written in 1906, when Pizzetti was in his mid-20s, and though it pushes no stylistic boundaries, it is full of charm, with touches of Dvo?ák in its lyrical, folk-tinged melodies. The spacious, richly recorded sound on this Naxos release seems perfectly suited to its warm-hearted, joyful and free-flowing outpourings. The players of the Hungarian Lajtha Quartet give it their expressive all, although tuning is a little creaky in places, and there are breath sounds and sniffs that become far too intrusive.
The Second Quartet, written in 1932–3, is darker in character, with touches of chromaticism as well as modal inflections underpinning its harmonies. The slow movement is particularly appealing, with cellist László Feny? taking a turn to shine in a gorgeously soaring melody. The scherzo that follows is pleasantly fast and furious, laced with whirling octave unison melodies. The chasing finale, intense and full of tension, is played with fearsome energy, and overall the recording of the Second Quartet does not suffer from extraneous noise in the same way as the first. An intriguing disc, even if patchy in quality.


Catherine Nelson