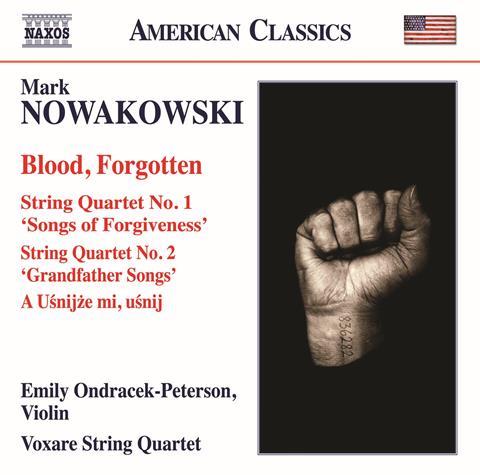 The Strad Issue: September 2017
Description: Ancestral sorrows explored in contemporary string quartets
Musicians: Emily Ondracek-Peterson (violin), Voxare Quartet
Composer: Nowakowski
Catalogue Number: NAXOS 8.559821
The Polish heritage of American composer Mark Nowakowski (b.1978) is a guiding spirit in these chamber works. The subtitles 'Songs of Forgiveness' and 'Grandfather Songs' (the latter written in memory of Górecki) hint at the soulful, sombre expression of the two 20-minute string quartets which, according to the composer's booklet note, explore feelings of misunderstanding and betrayal, anger and grief, arising from the devastation visited upon his ancestral country during the last century. Electroacoustic elements introduce yet more personal and poignant connections: a family song ghosts in and out of the texture during the Second Quartet, and the recording of a concentration-camp violin accompanies the soloist in Blood, Forgotten.
The album ends in tones of bittersweet pathos, with an instrumental setting of Polish folk song A uśnijże mi, uśnij ('O Sleep for Me, Sleep'). Full marks for sincerity, but an unrelieved mood and sameness of pacing is apparent both within pieces and across the disc, which should not be swallowed whole. Not that fault should be found with the performances, which seem altogether alert and committed. Emily Ondracek-Peterson is also the leader of the excellent Voxare Quartet, specialists in new music; her husband Erik Christian Peterson is the violist, as well as the producer of the appropriately claustrophobic recording here.
PETER QUANTRILL