Simon Zhu takes top prize in senior category of Chinese/Austrian event, winning $30,000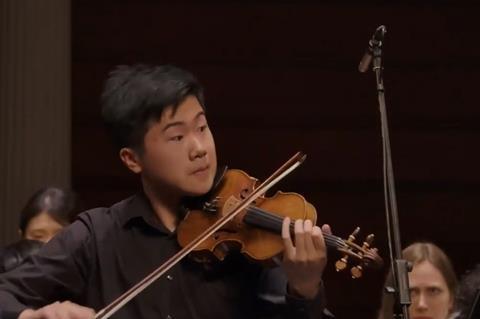 The third Zhuhai International Mozart Competition for Young Musicians, co-hosted by the Zhuhai International Culture Association and the Mozarteum University, Salzburg, has announced the winners across its three age-group categories.
The Category A final, for violinists aged 12 or under, took place on 17 September, and was won by Jinan Woo (12, South Korea). Second through fourth prize respectively went to three Chinese violinists, Shaoheng Zhong (10), Aozhe Zhang (11) and Junyang Zhu (11). The cash prizes are $7,500, $4,000, $2,500 and $1,000.
The Category B final, for ages 13 to 16, which took place on 19 September, was won by Lina Nakano (14, Japan). Second prize went to Pui Ying Wong (15, Hong Kong/China) and third to Muyang Wu (13, China). They win $15,000, $8,000 and $5,000 respectively.
The Group C final, the senior category for ages 17 to 23, took place on 21 September. The results were as follows:
1st Prize - Simon Zhu (18, Germany), winning $30,000
2nd Prize - Elli Choi (17, United States), winning $15,000
3rd Prize - Yiying Jiang (21, China), winning $7,500
Each Group C finalist performed the first movement of a Romantic violin concerto with piano accompaniment, followed by a complete Mozart concerto accompanied by the Salzburg Chamber Soloists. Zhu chose the Sibelius concerto and Mozart no.5.
The competition jury comprised Paul Roczek (Artistic Director), Julius Berger (jury chair), plus Lewis Kaplan, Boris Kuschnir, Michael Ma, Silvia Marcovici, Qian Zhou, and Tong Weidong.
Previous laureates of the competition include Chloe Chua, María Dueñas Fernández and Oleksandr Korniev.