The British orchestral and chamber musician was 73 years of age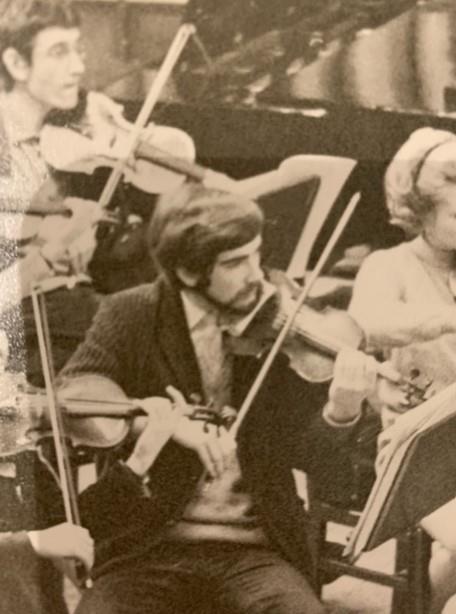 British violinist Roger Stimson died on 1 February 2022 after a nine-year battle with cancer. He was 73. A former orchestral player, he devoted much of his later years to teaching, ensemble work, arranging and composing music.
Born in 1948, Stimson began playing the violin aged twelve. At 17 he began studies at the Royal Academy of Music (RAM) where his tutor was Hugh Maguire, principal of the London Symphony Orchestra and the BBC Symphony Orchestra. While there he became leader of both the RAM's first orchestra and its chamber orchestra, as well as first violinist of a string quartet. He was awarded the RAM's Orchestra Prize in his graduation year, and was soon accepted into both the Royal Ballet Orchestra and the Bournemouth Symphony Orchestra, where he served as a principal violinist.
Stimson later joined the Welsh National Opera orchestra and the Scottish Chamber Orchestra. He left orchestral playing in 1980 in favour of teaching, as well as writing his own music. In his career he also performed with chamber groups such as the Buonarotti String Trio, the Chandos Quartet and the Palm Court Theatre Orchestra Ensemble. From 2010 onwards he played in Fedora Strings, a chamber ensemble based in Peterborough. One of his most recent works was The Quest for the Golden Orchid, a children's book for which he wrote a number of accompanying songs.
Stimson is survived by his partner Anne, four children and nine grandchildren.
Elisabeth Matesky writes:
I am still in shock and disbelief over the passing of my treasured British-born friend and colleague Roger Stimson. It is a privilege to honour an enormously gifted violinist who learned violin with the revered Hugh Maguire, a pupil of the great Sascha Lasserson. This served Roger well, being imbued in the Auer–Lasserson school of great violin playing. Armed with this pedigree, Roger greatly enriched all ensembles he would be a part of, earning the respect and personal friendship of many British and, later, American musical colleagues, myself included. His rich performance career enabled his teaching of gifted and less gifted pupils to advance from first principles to professional careers in music throughout the UK and further afield.
I initially met Roger on an intriguingly titled LinkedIn discussion, 'Top Ten Greatest Violinists of All Time'. Our friendship grew from there. We kept in touch closely for family celebrations, holidays and very extensively during the pandemic. Stimson's legacy has many facets, including his enchanting writings of children's stories, writings and music.