The partnership between violinist Charlotte Spruit and painter Jérémie Queyras won first prize at the competition that celebrates interdisciplinary collaboration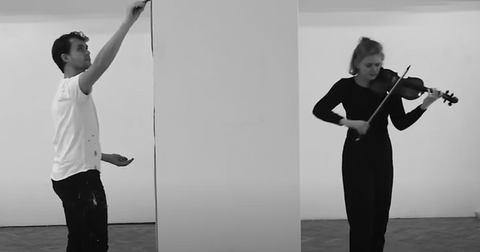 The Goodmesh Concours have announced three winners for its 2021 competition. The criteria for the competition states that music must be combined with another art form, such as visual art, dance or theatre, with relevance to the theme 'Expectations vs Reality'.
The collaboration between Dutch violinist Charlotte Spruit and French artist Jérémie Queyras won first prize, for their work Echoes From the Future. Spruit performed a programme of solo violin works by Telemann and György Kurtág, while Queyras painted alongside the performance live. 'The relationship between painting and music raises questions about artistic expression as a time-based experience. We want to challenge common assumptions of music being a linear experience in time and painting being a timeless medium'.
First prize includes prize money of €1500, a TRPTK album recording with worldwide distribution, live performance opportunities, as well as a professional video recording and a photoshoot.
Watch the winning performance from Charlotte Spruit and Jérémie Queyras here:
Second prize went to dopqelgänger, performed by a German team of baritone Johannes Fritsche, puppeteer and visual theatre artist Emilien Truche, and pianist Manon Parmentier. The audience award went to It Rose Behind The River by Portuguese contemporary music ensemble Sketch351, composer Nuno Lobo and video artist Pedro Lobo.
The winners concert and awards ceremony will be held in the Vondelkerk Amsterdam on 26 February 2022, with a livestream on the Goodmesh Concours Facebook page and YouTube.
Now in its second edition, the Netherlands-based Goodmesh Concours aims to inspire musicians to branch out by collaborating with additional art forms. The competition received applications from over 200 artists representing 40 nationalities, 35 musical instruments, and 29 art forms. The jury consisted of Maya Fridman, cellist and artist manager at TRPTK music label, Jacques Goddijn, founder of Goodmesh, Dana Zemtsov, violist and Dimitri van der Werf, co-founder and artistic director of Classical NOW!