Born in Japan, the luthier lived in Chicago, US, for four decades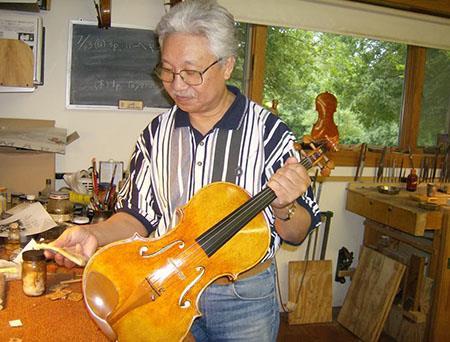 Read more news articles here
Japanese violin maker Tetsuo Matsuda died on 1 November aged 77. One of the first Japanese violin makers to train in the West, he made his home in Chicago from the early 1980s.
Born in 1945 in Akita, on the island of Honshu, Matsuda moved to Tokyo in his early twenties to begin an apprenticeship at a guitar shop. He also learnt to play the guitar and violin. An early trip to examine the guitar shops of Spain encouraged him to pursue his dream of being a luthier, and in 1977 he enrolled at the Cremona International School of Violin Making. Four years later, one of his violins won fifth prize at the Wieniawski Competition, and in 1982 he came second at a making competition in Cremona.
After graduating, Matsuda moved to Chicago, US, where he worked in a violin shop. In 1984 he won a gold medal at the Violin Society of America's lutherie competition, but it was only in 1993 that he finally set up his own shop in Barrington, a suburb of Chicago. He later served on the jury of the Wieniawski Competition.
'I am very happy when an instrument fulfils both the needs of the performer and also my taste,' Matsuda told the Chicago Japanese American Historical Society in 2009. 'The sound of an instrument has to project because of the increasing size of modern concert halls. My philosophy developed from the performer's point of view. I would like my instruments to resonate and project from the day I finish building. I also would like my instruments to directly convey the performer's emotion.' He also said that his motto for instrument building was: 'clear sound, powerful sound and quick response'.