The study has helped the D'Addario Foundation launch its Immersive Music Challenge, which aims to bring intensive music mentoring to lower income schools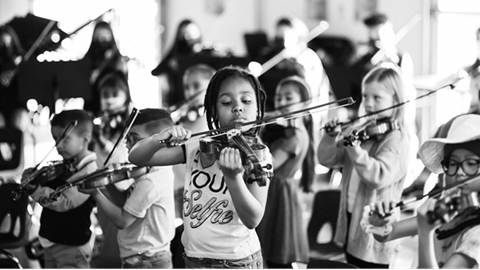 Read more news articles here
A new study from the University of California, Los Angeles (UCLA) has found that intensive music mentoring is linked to significantly improved reading and maths scores, as well as decreased pandemic related anxiety in students, especially implemented in lower income schools.
The study, published in Spring 2022 by the Journal of Youth Development, found that students who participated in an after-school programme providing four hours per week of music lessons and mentoring in five high-poverty elementary schools in Long Beach, California, not only learned to play challenging music with one another, but showed significantly improved reading and maths scores after two years in the programme when compared with students who did not participate.
The report's co-authors Dr. Margaret Martin and Dr. Deborah Glik noted that these results could provide a roadmap for school districts across the country seeking to address disparities in academic performance and educational attainment that hinder the long-term prospects for children from low-income communities.
'Such positive outcomes suggest that a key to closing the achievement gap may be found in the capacity of music training plus mentoring to boost children's language-related brain development, and thereby improve their capacity to learn,' Martin said. 'School leaders report that the intervention also effectively addresses students' pandemic-related social and emotional needs.'
The study has paved the way for a new initiative from the D'Addario Foundation, called the Immersive Music Challenge. Backed by the results of the UCLA study, the initiative aims to boost music mentoring in high poverty schools, in order to improve literacy, numeracy and mental health among young students. The foundation will help school districts and charter systems throughout the country implement effective music-based mentoring programmes.
'At this point, we don't need more studies; we need broad implementation,' said Dr. Jonathan Fielding, professor of pediatrics and co-chair of Healthy People 2030. 'We have seen enough evidence of the auditory learning benefits of programmes like this for students from low-income families that it's time to make them an essential part of the curriculum.'
Artists such as Karen O from the Yeah Yeah Yeahs, Mark Knopfler and Nile Rodgers have thrown their support behind the project. 'To me, music in schools is the most important thing that you could ever experience - and it may be one of the best things that educators can experience as well,' said Rodgers. 'The consistency and the fun of doing music is one of the best things a kid can experience.'