For the most vulnerable, having access to musical performances may be a lifeline, writes the World Harmony Orchestra in an open letter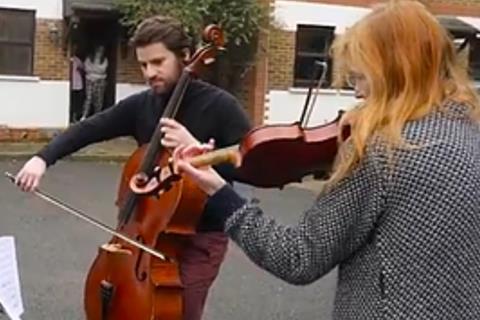 The directors of the World Harmony Orchestra, which has been organising small-scale socially-distanced live performances throughout the lockdown, has written an open letter to all orchestras, musicians, community musicians, music therapists, concert venue directors, arts organisations and artists. It reads:
Dear colleagues,
You have been suffering heavily, both financially and emotionally from the loss of your work in these unprecedented times.
As well as feeling frustrated by not being able to perform live or share your art as you usually would, you may have wanted to reach out to isolated people through music and arts at this time but not known how to do so.
As the directors of the World Harmony Orchestra, a registered social enterprise which supports vulnerable people through music, we wanted to share with you a way to fulfil some of our needs as artists and the needs of those who are especially susceptible to Covid-19 due to health conditions, hoping it may inspire you to do the same, if you are not already doing it!
Knowing the power of music and its enormous therapeutic possibilities, we have been organising short outdoor, socially distanced performances for self-isolated people, given by one or two musicians, since the start of the outbreak.
We followed Government guidelines as this service 'provides care to vulnerable people' and when the musician is very local and can walk to the place it counts as part of their daily exercise allowance. The musician is able to perform outside someone's house, keeping a strict safety distance either on the pavement, in a garden or courtyard.
Our first concert was featured on BBC News and our work has since received media attention from BBC Radio London, The Times, Getty, the American medias Slate and NBC News and France Musique.
Requests, often heart breaking, poured in from people asking for their elderly or seriously ill loved ones who they could not visit or from vulnerable people themselves reaching out to us.
70 concerts have taken place not just in London but all over the U.K. with local musicians being matched to people requesting concerts, through the mutual aid groups, which spread across the country like a wildfire of generosity.
Here is one of the many moving testimonials: 'I am 49 but in a vulnerable group due to my genetic illness. I have suffered severe depression. Now I don't have anyone coming round or helping me, I feel myself getting darker thoughts. Having local musicians doing a concert outside my door would definitely help my mental health and make my year.' And after the concert, she said: 'The concert was amazing, I felt so happy for the first time in 7 weeks. I was crying with joy. I literally had tears in my eyes, I wish I could have that performance again.'
The most isolated people in society are the most likely to become more isolated because of the situation. Having someone play music especially for them lifts their spirits and helps them feel more connected to others. And for the most vulnerable, it is something even more valuable than that. It may literally help save their lives, not just that one action but the sum of acts of kindness from the community.
Shortly after the advice 'Stay home to save lives' which paralysed our cultural industry, came an answer to the issue: 'keep calm and carry on online'. It is vital to respect the need for social distancing in order to save lives, but we also need to remember the length of the safety distance is 2 metres, not 2 kilometres. By staying physically apart from each other, we end up too distant emotionally, and our social bonds threaten to break.
Read: London Mozart Players to resume live performances
Read: 5 festivals that hope to go ahead this summer (at least in part)
Read: Live music returns to Wigmore Hall
Nothing can compare with the power of live music or performance. Technology surely helps us to stay connected in these troubled times, but will never replace the intimacy and warmth of a real human exchange. So, let's keep calm and carry on doing our work 'live', this time for the people who would highly benefit from it.
At the start of 2020, we were awarded a small grant to give free or pay-what-you-can concerts in people's homes who otherwise could not access them. We had begun giving several of these 'Cuppa Concerts' and adapted this idea during the crisis, offering concerts to people outside their homes. We have been able to use the grant to pay the musicians modest fees and together with donations from people receiving or requesting the concerts the project has been financially sustainable.
We would like to ask you to join us and find ways to continue this work. It is uncertain how long the situation will last but while it does, vulnerable people won't be allowed to go out as much as they want to and music and arts venues will remain closed.
We need to be prepared in case there is a second wave and even after the crisis has stopped, because these people may not have access always to the arts otherwise, due to their health, age or mobility issues.
Friends orchestras and arts organisations, let's find a new way of truly connecting with our audiences. When our audiences can no longer come to us, there is a great need for us to come to them. If your organisation has an Outreach budget, it could be used to fund this kind of work for members of your orchestra, alongside donations you would get from the audiences.
Friends musicians, let's play our part during this time of crisis. The feedback we have had from the musicians themselves has been very positive, many describing how special and worthwhile such an experience has been for them too. You could do this as part of your freelance work, taking donations directly from the people requesting the performance. Or you could encourage the orchestra or organisation you play with to do a similar project
Now more than ever it is time to recognise fully the therapeutic and social impact of our arts and think of ourselves as key workers. Now more than ever our work as conscious musicians and artists is crucial. Because in today's crisis and in every crisis, there is an opportunity for us to do something positive.
We intend to write to the Government, local authorities, social services, the Arts Council and other grant holders to encourage them to see the value of this work and support financially such initiatives in a time of crisis.
To make our voice louder, we would love to have your support!
If you would like to add your own note to this 'symphony of solidarity' please let us know by replying to this letter. We look forward to hearing from you.
With best regards,
Romain Malan and Eleanor Harrison
Directors of the World Harmony Orchestra
Facebook: @WorldHarmonyOrchestra
Twitter: @WHOrchestra
Instagram: @worldharmonyorchestra
See below for the video of the ensemble's first lockdown concert, as featured on BBC News