Forty years after the death of pioneering pedagogue Paul Rolland, we speak to former colleagues and students to assess his string teaching legacy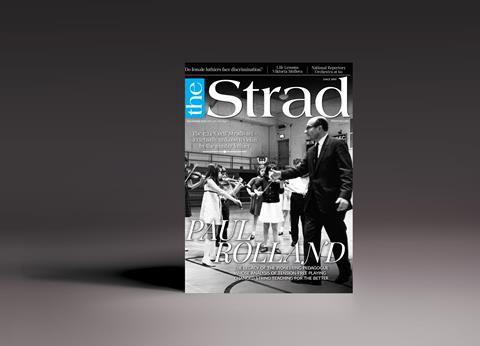 The Strad November 2018 issue is out now in which we examine the legacy of American violin teacher Paul Rolland, whose analysis of tension-free playing changed string pedagogy for the better.
John Dilworth investigates the 1724 'Cecil' Stradivari violin, a well-preserved instrument from the master's late period which, miraculously, has gone almost completely under the radar until now; and in the wake of the #MeToo movement, we talk to female luthiers about how they view their position in the trade – and discover a raft of strong feelings.
Laurinel Owen talks to members and tutors of the Colorado-based National Repertory Orchestra to find out how it has sustained such an impressive success rate over 60 years; and in our Session Report, we join Swedish violinist Cecilia Zilliacus in the studio as she brings a distinctly Nordic flavour to her interpretation of Brahms's Violin Concerto.
Tully Potter assesses William Kroll's contribution to the US musical tradition, finding it ranges further than his best-known work, Banjo and Fiddle; and in our postcards from Indiana and Colorado, we report from the International Violin Competition of Indianapolis and the Aspen Music Festival respectively.
In our regular sections:
In Focus features a 1588 violin by Antonio Amati; David Polstein offers a new method for resawing rib stock in Trade Secrets; My Space features the workshop of Yonkers-based luthier Ron Fletcher; and in Making Matters John Simmers uses antiquing methods to give an instrument a feeling of warmth.
Our monthly Masterclass features Carolin Widmann discussing Schumann's Violin Sonata no.2 in D minor; violin pedagogue Marianne Piketty hands on hints and tips on playing martelé in Technique; Russian violinist Viktoria Mullova tells us her Life Lessons; plus James Ehnes on his relationship with Beethoven's Violin Concerto in Sentimental Work.
We also bring you news of the latest competitions, products and auctions, and comprehensive reviews of concerts, CDs and books.
In this month's digital edition:
Get up close and personal with the 1724 'Cecil' Stradivari and our In Focus instrument, a 1588 Antonio Amati – including extra images not seen in the print magazine
More from the tour of New York luthier Ron Fletcher's workshop in My Space
Extra photos from the International Violin Competition of Indianapolis, including images of all six finalists
More from the Aspen Music Festival, the subject of this month's Postcard from Colorado
And of course, audio clips from our three 'The Strad Recommends' recordings this month
PLUS: Every single weblink, including the advertisements, is now live – tap straight to your favourite online content
The digital magazine and print edition are on sale now.
Do YOU have something to say about the new issue – or about the strings world generally? Send letters to the editor at thestrad@thestrad.com.