Renowned for scoring Sergio Leone's Spaghetti Westerns that made Clint Eastwood a star, the Italian composer has died in Rome at the age of 91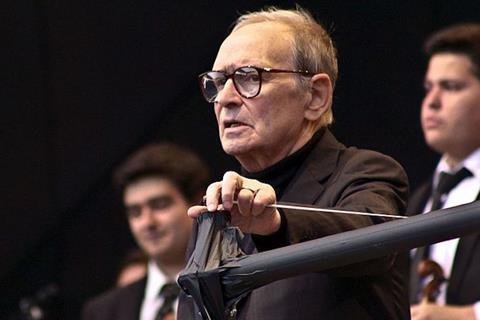 The Oscar-winning Italian film composer Ennio Morricone has died in Rome at the age of 91, following complications from a fall some days ago in which he broke his femur. In a career, which spanned more than six decades, he created over 600 original compositions, including scores for Once Upon A Time in The West, Cinema Paradiso, and The Good, The Bad And The Ugly.
Born into a musical family in Rome in 1928, Ennio Morricone began playing the trumpet at an early age. He studied the instrument, along with choral composition, in the 1940s, before going on to compose classical music and scores for theatre, TV, film and radio in the 1950s.
To start with he wrote scores for Italian comedies and costume dramas, but in 1964 he began working with director and former schoolmate Sergio Leone on a series of Spaghetti Westerns: A Fistful Of Dollars (1964), For A Few Dollars More (1965) and The Good, The Bad And The Ugly (1966), whose tense and gritty atmospheres - largely owing to Morricone's music - helped to redefine what had been considered to be a relatively light genre. They made a star of their lead actor, Clint Eastwood, and cemented Morricone's reputation. His score for The Good, The Bad And The Ugly sold three million copies. Leone called the composer's contributions 'indispensable' and later admitted that he would have Morricone write the music before shooting so he could design his shots around it.
Throughout the1960s and '70s, Morricone worked on several westerns as well as horror movies, political thrillers and comedies, composing up to 20 soundtracks a year. His music inspired bands ranging from Radiohead to Muse, as well as directors such as Quentin Tarantino.
In 2007 he received an honorary lifetime achievement Oscar for his unique contribution to film music - one of only three composers ever to receive this award. Nine years later, he won another Oscar for his contribution to Quentin Tarantino's The Hateful Eight, having already received Oscar nominations for Days of Heaven, The Mission, The Untouchables, Bugsy and Malèna. Morricone did not retire from live performance until the age of 90, with his final concerts receiving standing ovations. His score for The Good, The Bad And The Ugly is still one of the most popular film soundtracks ever composed.