Library of Congress collection joined by 'Paganini' quartet for special event. Philip J. Kass reports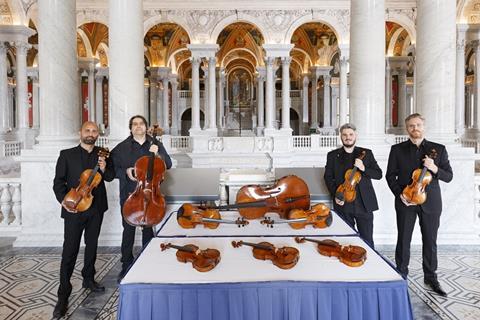 Washington DC audiences are well acquainted with the concerts presented at the Library of Congress as well as the famed ensemble of Stradivari instruments presented to the Library by Gertrude Clarke Whittall.
For nearly a century, these celebrated masterpieces have sung forth in the hands of great musicians such as the Budapest and Juilliard Quartets, who were the resident ensembles for most of those years. But on 11 May, they were joined by an equally glorious ensemble, the 'Paganini quartet', four instruments collected by the great Italian virtuoso in the early 19th century.
They were split up after Paganini's death and then reunited by legendary New York dealer Emil Herrmann in the 1940s. For some years they had lived off the National Mall, in the collection of the Corcoran Museum, and more recently have delighted audiences in the hands of the Tokyo Quartet, which had them on long-term loan from their current owner, the Nippon Foundation.
Today they are in the hands of another wonderful ensemble, the Quartetto di Cremona, which was in town to perform a recital of Puccini, Verdi and Beethoven in the Coolidge Auditorium to a large and appreciative audience. The concert was jointly sponsored by the Italian Cultural Foundation of Washington and the Italian Embassy.
Thus, the concert brought two justly celebrated ensembles under the same roof, providing one of the largest gatherings of top-notch Stradivaris in recent years. Needless to say, it was only proper that the two ensembles should be brought together in an event that occurred in the Great Hall of the Library, where they could be admired as one and appreciated both visually and sonically by the Quartetto and by those in attendance.
In total, ten great Stradivari instruments were joined together: among the violins were the 'Betts' of 1704, the Ward of 1700, the 'Castelbarco' of 1699, the 'Paganini' of 1680, and the 'Paganini' of 1727; the violas included the Cassavetti of 1727, the Tuscan of 1690, and the Paganini of 1731; and the two cellos were the 'Castelbarco' of 1699 and the 'Paganini' of 1736. It did not escape this correspondent's attention that the violas constituted one quarter of all known Stradivari violas, an astonishing feat.
Of course the event was memorialised with the accompanying photos, recording the meeting of these wonderful ensembles, and one must now hope that the Quartetto will return to the Library for another concert, this time joined by another ensemble of like character, for a performance of octets on Stradivaris.
Philip J. Kass is an expert and author on fine stringed instruments and bows