A factory in the Fiemme valley has launched a crowdfunding effort to enable it to quadruple its processing capacity before the wood deteriorates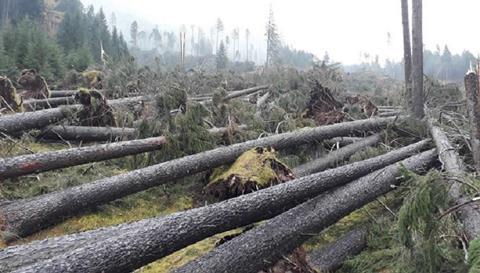 Storms in northern Italy in October flattened large portions of Alpine forest, including in the Fiemme valley and Paneveggio national park, where Stradivari selected spruce for the tops of his instruments.
The forests, where conditions favour the growth of spruce with a very tight and straight grain, still provide a great deal of tonewood for the manufacture of violins, guitars and piano soundboards. The nutrient-poor soil and cold winters promote a very slow growth, and trees suitable for tonewood tend to be 150-250 years old.
A local tonewood factory, Ciresa, is now grappling with the problem of an oversupply of felled trees which will begin to deteriorate as the months wear on.
'Considering that the yearly requirement of wood we generally use is 350-400 cubic meters, and we must try to save about 1300-1500 cubic meters, that represents quadruple our annual needs,' said Fabio Ognibeni, Ciresa's general manager.
'It is necessary to collect the wood immediately as, if the logs remain into the forest on the ground, starting from next June, with the hot summer weather, they will be damaged by moulds and insects, and they will only be used for packaging production or as burning wood.
'For our small factory this challenge is colossal, both for the time and energy involved, as well as for the great financial outlay, considering the value and the price of this kind of wood.'
Ciresa has now launched a crowdfunding initiative to enable it to make the necessary investment. It is offering two options: luthiers and existing customers can deposit an amount as advance payment on future orders; music lovers and anyone else concerned about 200-year-old tonewoods ending up as firewood, can simply make a cash deposit which Ciresa will refund within three years.
Ciresa will issue a receipt and a violin-shaped keepsake made out of Fiemme spruce. The company will offer the IOUs in three tiers:
Save a small log of Stradivarius' tone wood: €80
Save a big log of Stradivarius' tone wood: €150
Save a tree of Stradivarius' tone wood : €300
For more details, visit the Ciresa website.