The event on 9 February will illustrate the inner workings of a string quartet, with an invitation to observe Bartók String Quartet no.1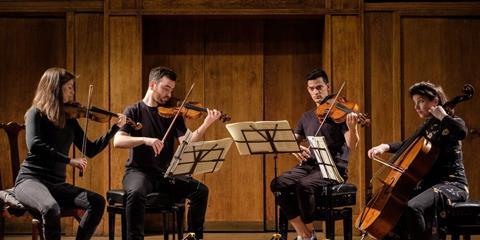 The Royal Philharmonic Society (RPS) will host a free open rehearsal, where audience members will observe the Solem Quartet rehearse Bartók String Quartet no.1.
The event will be held on 9 February from 7-8pm at St George's Bloomsbury in London. During the pandemic, the quartet launched its series Beethoven Bartók Now (BBN), exploring the quartet works of the two composers reimagined with music from contemporary composers.
Solem Quartet violist Stephen Upshaw says, 'One of our missions as a quartet is to share with others why we love the music we play and hopefully bring our audiences along with us on the journey through a piece of music. We feel strongly about championing all of the music that we believe in: everything from Mendelssohn to Kate Bush to Beethoven, Thomas Adès - and of course Bartók.
'We're thrilled to be working with the RPS to delve into Bartók's ground-breaking first string quartet in this open rehearsal on 9 February and can't wait to share what excites, challenges and inspires us about this great masterpiece!'
The event is free but tickets must be booked in advance. More information can be found here