The cello, made in the workshop of Antonio Stradivari, is one of only three Bergonzi cellos known in existence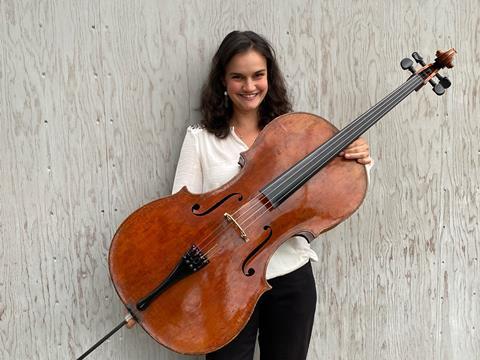 Read more news articles here
German cellist Raphaela Gromes has acquired a 1740 Carlo Bergonzi cello, thanks to her long-standing patrons.
The unnamed cello was discovered in an attic ten years ago and ended up in the hands of a collector who bought it in an auction. Wondering who the maker was, the collector took the cello to expert Dmitry Gindin to ask for his opinion.
'It took Gindin only a few moments to identify the cello as a Bergonzi,' Gromes told The Strad. 'In his words, "A seasoned, qualified eye and good instinct can make a decision based on recognising shapes and known features characteristic to classical violin makers and spot fakes, as well as eliminate the possibilities of such instruments having been constructed by other masters working close to the one in question in time and distance. An appropriate analogy here is probably recognising someone you know - even from far away, sometimes after years or decades of not having seen them."'
The cello has since been restored based on the models of the other two existing Bergonzi cellos.
Gromes had previously been playing a fine instrument by J.B Vuillaume for the last few years. Following her Lucerne Festival debut this summer, Gromes's patrons urged her to look for her dream instrument, offering to buy an outstanding Italian instrument as an investment for themselves and to let her play it.
'Of course this was totally overwhelming for me, and when I started looking, a whole new universe of sound quality and possibilities opened up for me. Stradivari, Guarneri, Tecchler, Ruggeri, Goffriller - all outstanding instruments! But in the end the Bergonzi Cello touched me most, it felt like coming home when I played the very first notes on it and I knew at once that my search was over and I had found the perfect instrument for me,' said Gromes.
Gromes is delighted with her new instrument, stating 'the cello sounds exactly like a cello should sound… It comes closer to the imagination of an ideal cello sound in my head than any instrument before. In the lower registers it is glowing and it never looses the warmth and sound quality, also not in the highest register. All in all it is extremely balanced and noble and inspires me since the first moment [I played it].'
Gromes will perform Saint-Saens Cello Concerto no.1 with the Bergonzi cello on Friday 28 October in Brussels, with the Belgian National Orchestra and conductor Roberto González-Monjas. On exploring the repertoire with the new instrument, Gromes elaborates, 'Every day while practising, I discover new possibilities and sound colours of the Bergonzi, and for the French repertoire it's very exciting to fully exploit all those qualities. On top the cello has enormous power and an exceptionally bright yet deeply radiant sound which is of course a perfect condition for performing at big concert halls like the Palais the Beaux Arts!'
Born in Munich in 1991, Gromes has been an exclusive artist with Sony Classical since 2016. 2019 she received the German Record Critics' Award for her album Offenbach as well as the Bavarian Arts Promotion Award in the Music and Dance category. She received an Opus Klassik chamber music award for Offenbach in 2020, as well as a 2021 Diapason d'Or for her recordings of cello concertos by Klengel and Schumann. Gromes is also an ambassador for the SOS Children's Villages Worldwide and for the José Carreras Leukaemia Foundation charities.
Carlo Bergonzi (1683 – 1747) was historically thought to have studied violin making with Giuseppe Guarneri 'filius Andreae' as well as the Rugeri family. In 1746 the Bergonzi family moved into the Casa Stradivari, remaining there for about 12 years, where Bergonzi worked on instruments left unfinished upon Stradivari's death in 1737. The other two cellos attributed to Bergonzi are located in London and the Chimei Museum in Taiwan.