Elegy for the Forest, Pekka Kuusisto's short film made in collaboration with Greenpeace, aims to build awareness of deforestation. He speaks to Peter Quantrill about combining art and activism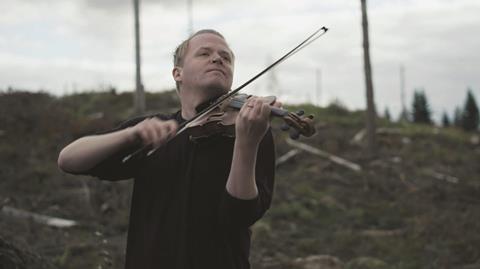 'It's quite shocking,' Pekka Kuusisto tells me, and he is still clearly shaken by the experience of making a short film for Greenpeace about the slow but ever accelerating destruction of the Great Northern Forest, which has for centuries circled the planet like a dark green crown.
The violinist has for a long time pursued a career that involves doing more than just making music. With innovative programmes and partnerships he makes connections – between history and the future, between folk and high culture, between art and life. For 21 years he was artistic director of Our Festival on Lake Tuusula, 25 miles north of his birthplace in the city of Espoo on Finland's southern coast. Now directed by the Kamus Quartet, the multimedia festival has worked with several major campaigning non-governmental organisations including Greenpeace, which last year took Kuusisto, a sound recordist and a camera crew out to a wilderness two and a half hours' drive north of Helsinki.
'The worst part of it,' remembers Kuusisto, 'was the little snippet of untouched forest that you see at the beginning of the film – because it really is untouched, and absolutely brimming with activity. And then you walk a few metres, and it's like a weapons-testing zone.' Here, in what had been ancient and unmanaged forest, Kuusisto plays a sublime melody written by Thomas Tallis for Archbishop Parker's psalter: 'a naive and sentimental choice', he says, disarmingly, though the effect of it stops listeners in their tracks.
'There is something universal and arresting about it, it seems, and so when people have written to me I have been able to recommend not only Vaughan Williams's evolution of the melody in his Tallis Fantasia, but also versions of it by Theatre of Voices and the Tallis Scholars, to enable them to hear what it can really sound like. But I wanted it to be a respectful arrangement. I didn't want to play a movement of Bach literally. I wanted the sense of handling something timeless with respect.'
Kuusisto compares what he saw there, in terms of biodiversity, to the burning down of the ancient Library of Alexandria. 'When unmanaged forest is disturbed, it's worse for the rest of us than when a regularly managed forest is chopped down. It's really as bad as it looks in the film, but the film can't explain the reasons why it's bad. These forests bind carbon so that it doesn't escape into the atmosphere. So when you wipe out the forest, you don't only wipe out the future possibility of carbon containment, you release a great deal of carbon into the atmosphere. It's not only ending a positive future but reversing it in a major way.'
The Scandinavian nations have long been renowned as pioneers of ethical technology and sustainable living. And yet Finland looks the other way when it comes to preying on vast tracts of its national resources to feed its economically significant paper industry. 'It's so protected, it's like guns in America,' says Kuusisto. 'No one wants to touch the subject.
But does it make sense still to manufacture paper out of Finnish forests? Of course, it's a lot more complicated than what someone who tries to maintain some level of violin playing ability can have time to comprehend. This is where I come to rely on friends who are more educated. And books.' In the string world we can become exercised by pernambuco, maple and ivory, the stuff of our instruments. But what does it really mean to be a 'green violinist', a musician with more than a conscience?
"Everyone goes on tours to countries that still have very little respect for environmental and human rights issues"
'Planting trees is one way,' replies Kuusisto. 'If you take a few moments on the internet, and try to figure out who is doing something useful for future generations, and you support them, that's something. But it's an incredibly confusing situation. I have played since I was three years old, and I always dreamt of being in the situation I'm in now, where a large part of my work is in the US, a large part in Australia, and I live in one of the most beautiful countries on the planet – and it is confusing. I am still figuring out how it is possible to exist so that my children and grandchildren won't point the finger at me when they grow up.'
Kuusisto shows acute – you could even call it musical – sensitivity to the charge which can be levelled at such a principled stance, that artists pontificating and 'raising awareness' by making films and giving interviews is all very well as far as it goes, but it doesn't go far enough in taking personal responsibility for the planet's future.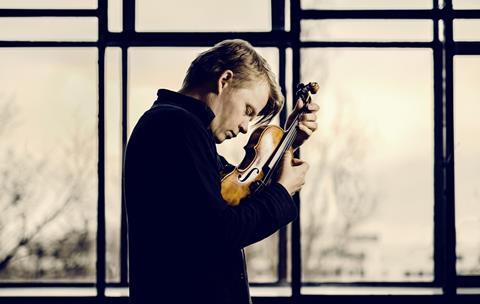 'Raising awareness is plenty better than doing nothing,' he counters, but then turns to the work of the teenage Swedish environmental activist Greta Thunberg, who led a movement for school strikes which spread across the globe, and told world leaders at a UN summit in December 2018 that they were behaving like children over climate change: 'You are not mature enough to tell it like it is,' she said. 'Even that burden you leave to your children. Our biosphere is being sacrificed so that rich people can live in luxury… Change is coming whether you like it or not.'
Thunberg's mother is the mezzo Malena Ernman, who has taken her daughter's words to heart by ceasing to undertake the international air travel which is generally assumed to be the sine qua non of a successful musician's career. Since March 2016 she has held to a no-fly pledge – and become vegetarian for similar reasons. Kuusisto reached out to Ernman's management, to find out more about her resolution and how it could be emulated.
'It is complicated,' he admits. 'Everyone wants to go on orchestral tours in faraway countries, and everyone goes on tours to countries that still have very little respect for environmental and human rights issues. We want to tour in the US and in China, but it involves closing our eyes. And this is not comfortable, while we still consider our profession and our art form as things that belong in a civilised, reflective society. A lot of fantastic art gets its fuel from conflict, but… this is too much.'

More positively, Kuusisto observes in his native Finland 'a real conversation about climate anxiety – in addition to the general feeling you get when you turn to the internet, that everything is going to hell in a handcart. I think that smarter people than me know that basically the world is still becoming a better place on a daily basis, and our hunger for bad news is one of the reasons we still exist as a species, because we are always preparing for the worst.'
Kuusisto is committed to doing his share of that preparation, with another Greenpeace project in the pipeline themed around The Carnival of the Animals: 'We will write new texts for it and visualise it with the most horrible examples of brutality that we humans visit upon animals including the ones that Saint-Saëns depicts.' Like Thunberg, Kuusisto has the adults in the audience in mind: the children have already got the message.
Find out more about Greenpeace's Great Northern Forest campaign here
This article was first published in the March 2019 issue of The Strad