The Darlington Quartet will begin the role at Perth's Western Australian Academy of Performing Arts in 2023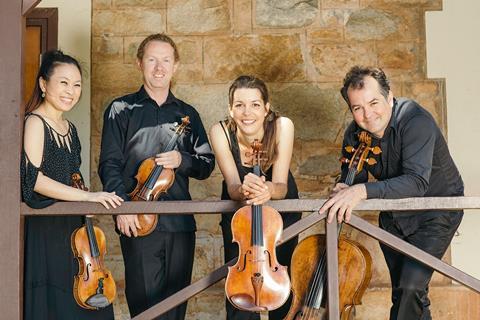 Read more news articles here
The Western Australian Academy of Performing Arts (WAAPA) in Perth, Western Australia, has announced the Darlington Quartet as its new quartet in residence from 2023. The quartet will also lead the academy's classical string programme. The Darlington Quartet comprises violinists Semra Lee and Zak Rowntree (assistant concertmaster and principal second violin of the West Australian Symphony Orchestra respectively), former Australian String Quartet violist Sally Boud, and cellist Jon Tooby, current artistic director of the Darwin Symphony Orchestra. Formed in 2018, the quartet emerged out of the Darlington Chamber Music Series, which was founded in 1993 by Tooby – a resident of the Western Australian locality of Darlington.
About the appointment, the quartet said: 'We are beyond excited about joining WAAPA in 2023! We can't wait to work with the students and participate in the diverse range of performance opportunities that WAAPA offers. We look forward to the move into the exciting new building in the heart of Perth, and the opportunities that the location and world class facilities will bring to help our students prepare for the 21st -century career in music.'
WAAPA was formed in 1980, with the academy's classical music programme being established in the later decades. The music programme also includes contemporary and jazz studies, while the school additionally offers courses in performing arts such as acting and dance. Notable music alumni include Hugh Jackman and Tim Minchin.