Mariel Roberts will join the ensemble for the 2022-23 season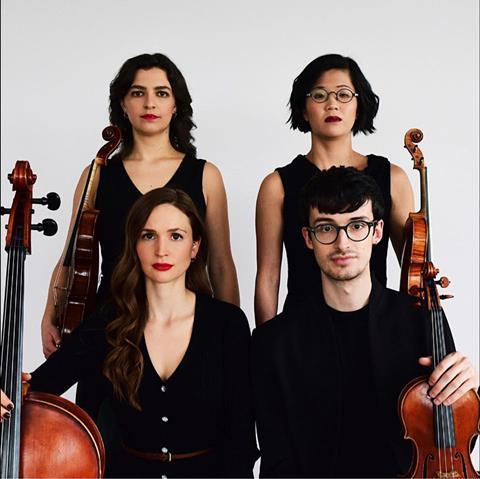 After farewelling cellist Audrey Chen, members of the Argus Quartet have announced that Mariel Roberts will join the ensemble from the beginning of the 2022-23 season.
'Mariel is a bold, inquisitive, and sensitive cellist and artist who has blown us away with her deep and wide-reaching engagement with new and old music alike,' said Argus violinist Giancarlo Latta. Violist Maren Rothfritz added, 'We can't wait to continue our mission of exploring connection, community, and discovery with Mariel this season and beyond.'
'I am thrilled to be joining Argus Quartet,' commented Roberts. 'I admire this ensemble so much for their artistic excellence, deep and thoughtful musicianship, and wonderful spirits. Playing with them is an absolute joy, and I'm looking forward to what we will create together and to the many beautiful performances to come!'
As a both a cellist and composer, Roberts's collaboration and experimentation as an interpreter and improvisor has helped create a body of work bridging avant-garde, contemporary, classical, improvised, and traditional music. A champion of contemporary music, Roberts has released two solo albums of new works commissioned for her, Nonextraneous Sounds and Cartography.
Highlights of the quartet's upcoming 2022-23 season include performances at the Chautauqua Institution; the Newman Center at the University of Denver; the Carpenter Center at California State University, Long Beach; ArtPower at UC San Diego; and Weill Recital Hall at Carnegie Hall.
In spring 2023 the quartet will tour with a major new concert programme featuring works by Indigenous composers, including the world premiere of Anne Leilehua Lanzilotti's ahupua'a, commissioned for the ensemble by the National Performance Network.
The Argus Quartet was founded in 2013. From 2015-17, it served as fellowship quartet in residence at the Yale School of Music under the guidance of the Brentano Quartet, and from 2017-19 held the position of graduate resident string quartet at the Juilliard School, working closely with the Juilliard Quartet. The quartet won first prize at both the 2017 M-Prize Chamber Arts Competition and the 2017 Concert Artists Guild Victor Elmaleh Competition.