The painting, attributed to the Italian master Giambettino Cignaroli, will be sold at Christie's Paris on 27 November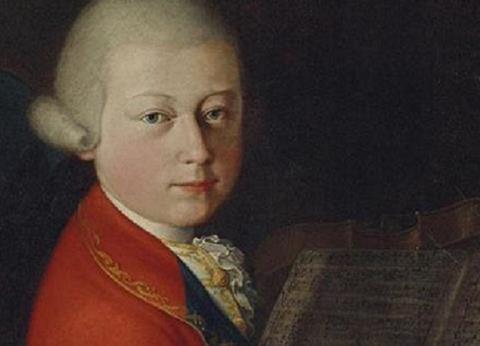 A rare portrait of Wolfgang Amadeus Mozart is due to be sold at auction at Christie's Paris on 27 November for an estimate between €800,000 and €1.2 million.
The portrait, which depicts the composer as a teenager, was painted in January 1770, following the success of an organ concert he gave in Verona. It is attributed to the Veronese master Gaimbettino Cignaroli.
The 13-year-old composer, who had been touring Italy at the time, giving concerts in several cities, is shown sitting at a harpsichord, in front of a score, wearing a red frock and white wig. At the bottom of the portrait, a few words in Latin highlight Mozart's precocity: 'He surpassed any praise in the musical art.'
Numerous attempts have been made to decipher the score. 'Some musicologists argue that it is the work of the Venetian composer Baldassare Galuppi,' said Astrid Centner, director of the old paintings department at Christie's, in an interview with Agence France-Presse. 'Others say that it is a score by Mozart himself that has been lost.'
As Centner points out, there are very few portraits of Mozart painted during his lifetime. The most famous include a drawing, now held at the Musée Carnavalet, of the then-7-year-old composer at the piano with his family; and a painting of him, aged 6, attributed to Lorenzoni and now held by the Mozarteum in Salzburg, the composer's birth city.
What is extraordinary about the 1770 portrait, according to Centner, 'is that we can precisely retrace the circumstances of the order [for the picture]; this happens very little in the world of art…Wolfgang's father, Leopold, speaks about it in a letter to his wife and tells the story of January 6-7, 1770' . In his letter, Leopold Mozart reports that Pietro Lugiati, general tax collector in Venice, decided to commission the portrait, which was painted in two successive sessions.
The portrait is part of a collection once belonging to the pianist Alfred Cortot. Rediscovered in 1865 by Leopold von Sonnleithner, great patron of Beethoven and Schubert, it was exhibited a few times at the Carnavalet and Salzburg.
Generally, says Centner, 'It's the painter's name that attracts buyers. In this case, it's the subject.'