Morven Bryce's 1996 John Dilworth, thought to have fallen onto the road due to a faulty luggage compartment door, was missing for six weeks before being sold to Cash Converters for £35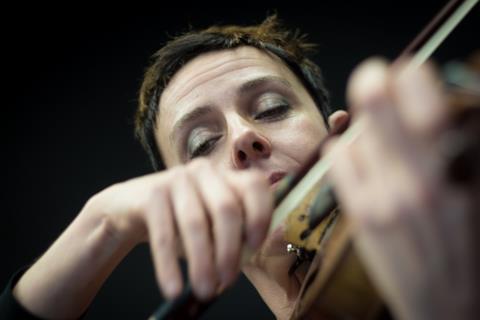 Freelance violinist Morven Bryce was on a UK tour with the BBC Folk Award winner Jon Boden and his band in November last year, travelling and sleeping on a tour bus. On the morning of 22 November she woke up in London's O2 Arena bus park and went to retrieve her violin, made by John Dilworth in 1996.
When she realised it was missing, the driver mentioned that the previous evening, on the way to the bus park, an alarm went off in the driver's cabin to alert him to a door opening unexpectedly in the luggage area. He stopped the bus when it was safe to pull over and closed the door – nothing appeared to be out of place.
Putting two and two together, Bryce assumed her violin must have fallen onto the side of the road.
'We scoured the local area in a cab hunting for a fallen violin,' Bryce told The Strad. 'I rang UK Highways and the local authority in Greenwich to find out if any "debris" had been reported near O2 Arena. A violinist friend, Julian Tear, went round Greenwich for me repeatedly scouring roads for any sign.'
This was as much in hope of finding the violin as in fear that what would actually turn up was a tangle of broken shards.
With no sign of the violin at all, and reports made to the police, reportmyloss.com, and detailed descriptions circulating on social media, a number of people recommended that Bryce contact Cash Converters, a UK-wide second-hand shop and pawnbroker.
The company responded to a tweet and an alert was sent to all branches.
---
'My John Dilworth violin is so special to me,' Bryce told The Strad. Dilworth, who is The Strad's lutherie consultant and a regular contributor since 1984, based the violin on the 1734 'Violon du Diable' Guarneri 'del Gesù', and it was part of a quartet of instruments that Bryce and the Medea Quartet commissioned in 1996.
In the intervening years, 'It has led the Tippet Quartet, led the Edinburgh Quartet, led the RPO, BBC Concert Orchestra and London Soloists Chamber Orchestra, led The Sound of Music in London's West End, played on countless Hollywood film scores and countless pop tracks, played live on BBC Radio2, Radio 3, and Radio4,' Bryce says.
'Throughout my varied career people have always needed to ask me what my violin is… I get comments about the warmth and depth of its tone and the clarity of its projection.
'Just days before John Dilworth messaged me. He had been listening to Front Row on Radio 4 when he happened to hear some beautiful violin playing that had sent shivers down his spine! At the end of the programme he heard my name credited for the performance!
'I messaged him back: "Don't forget it's thanks to YOUR violin John that it sounded so extraordinary !!!"
'Within a week the violin was gone. I hardly knew how to tell him.'
---
On 4 January, Bryce received an email from the manager of the Edmonton branch of Cash Converters, Richard Newman. 'I believe I may have your violin,' he wrote. It had been brought in and offered for sale, complete with case and two bows, for £35.
'After they left Richard took a closer look at the Violin,' Bryce continued. 'He spotted the label and noticed the superior craftsmanship, so he decided to do some research and he googled John Dilworth.
'He told me he was excited and fascinated by what he was discovering about the calibre of John's work.'
A quick search in the Cash Converters database flashed up the alert, and the reunion was set up.