After a life filled with adventures, including the theft and recovery of his 'Lipinski' Stradivarius, the violinist is stepping down as the ensemble's concertmaster, having been forced by the coronavirus lockdown to leave his final season incomplete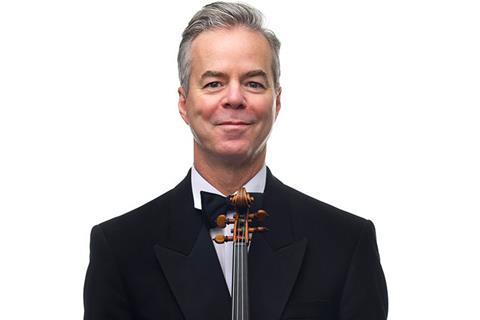 Frank Almond, concertmaster of the Milwaukee Symphony for the last 25 years, has stepped down from his role. The violinist originally announced last year that this would be his last season with the orchestra, but, owing to the coronavirus lockdown, he has been forced to leave it incomplete.
Almond put the decision to leave partly down to increased parental responsibility since his wife, Kate, died of breast cancer in 2017. He told the Milwaukee newspaper The Shepherd Express: 'It's a constellation of things. I have two teenage girls on my own. For four to five years I had ideas I couldn't do for either professional reasons or Kate's illness. Last season it became untenable. Ken-David Masur and I get along great, but I think he should have the opportunity to find someone to take the strings section in a different direction.'
He continued: 'I want to build the Frankly Music chamber music series and continue to grow my teaching at Milwaukee Youth Symphony Orchestra. I hope to change the chamber music landscape, and get the arts more out into underserved communities, like schools and prisons, on a regular basis.'
On being unable to complete his final season, he said: 'it's a weird way to go out, but that's not really what should be the focus of MSO now. They have plenty to deal with. I have close colleagues and a lot of history there, and it would be nice to feel some sort of closure. I hope people won't immediately forget the work I've done there.'
Read: Frank Almond announces final season as Milwaukee concertmaster
Read: Milwaukee Police confirm safe recovery of $5m 'Lipinski' Stradivarius violin
Almond was appointed by Zdenek Mácal, and seved as concertmaster through the tenures of Andreas Delfs, Edo de Waart and current music director Ken-David Masur.
In January 2014, he was thrust into the spotlight when he was attacked by robbers who stole his 301-year-old 'Lipinski' Stradivarius as he left a recital at Wisconsin Lutheran College, Milwaukee. The criminals were caught and jailed, and the violin was safely recovered.
Almond, who has also served as concertmaster at the London Philharmonic and Rotterdam Philharmonic, will continue to play an advisory role with the Milwaukee Symphony. When asked by the Shepherd Express if he had any thoughts that stood out from his time with the MSO he said: 'A milestone like the Carnegie Hall concert felt recognizable to everyone. Mostly, I'm just proud to have been a part of what this orchestra has become over time.'
Read Frank Almond's opinion piece for The Strad: Blind testing Strads and Guarneris misses a fundamental point
Watch Almond play his 'Lipinski' Strad below: