Instrument found inside a suitcase, hidden in the attic, at a property in Milwaukee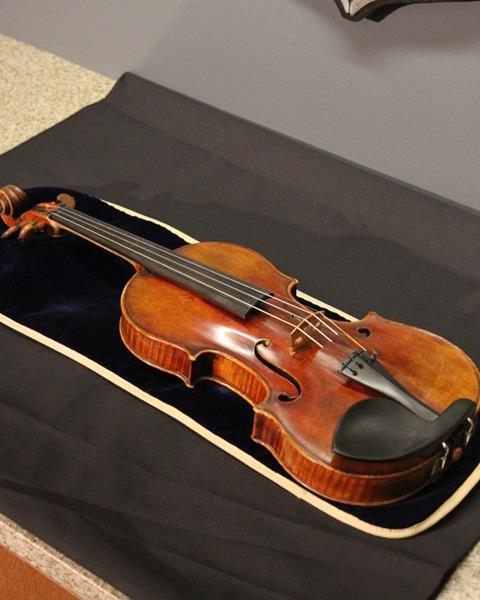 The Milwaukee Police Department has confirmed the safe recovery of the 'Lipinski' Stradivarius violin. In a press conference last night police chief Edward Flynn announced investigators had discovered the undamaged instrument inside a suitcase, hidden in an attic, at an address in the Bay View area of Milwaukee.
Police arrested three suspects this week with the help of the FBI's Art Crimes Team following dozens of tips from the community and valuable information provided by Taser International. The 300-year-old instrument was stolen after a performance at Wisconsin Lutheran College on 27 January as Milwaukee Symphony Orchestra concertmaster Frank Almond walked to his car. A thief attacked the violinist with a stun gun, causing him to drop the Strad, and fled in a waiting car driven by an accomplice.
The arrested suspects have now been identified as Milwaukee residents, 36-year-old Universal Knowledge Allah, 41-year-old Salah Ibin Jones and a 32-year-old woman. Information provided by one of the suspects eventually led to the successful recovery of the violin, valued at $5m.
The 'Lipinski' Stradivarius has been on permanent loan to Almond since 2008. 'I could not have imagined a better outcome for this particular chapter in the violin's life and I look forward to having it in my hands as soon as possible,' he said.
On Monday Almond published a statement by the Strad's anonymous owner on his website, which praised the efforts of the Milwaukee police and expressed relief that Almond had not been seriously hurt in the attack.
The Milwaukee Symphony Orchestra had also announced that a $100,000 reward was being offered to anyone who could provide information leading to the violin's safe return. The source of the reward money has not been identified.