Two violists are among the three finalists competing for a AUD21,000 prize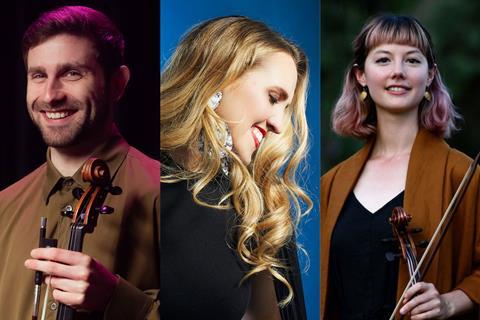 The three finalists for the 2022 Freedman Classical Music Fellowship are violists Henry Justo and Katie Yap, and harpist Emily Granger. The fellowship, which is open to Australian classical musicians aged 35 or under, was established in 2001, and is awarded by the Australian non-profit organisation The Music Trust. The fellowship's winner, who will be announced at the Sydney Opera House on 30 July, will receive AUD21,000 (£12,000).
To enter, participants must propose projects on how they would spend their prize money, in line with their artistic goals and professional development needs. They must also perform to a jury and an audience. The 2022 edition saw 16 entrants present projects and perform in front of a jury comprising Australian National University (ANU) School of Music head, professor Kim Cunio; bassist Kirsty McCahon; and senior lecturer at the Sydney Conservatorium Dr Stephen Mould.
About the three finalists, the jury said 'they are a wonderful reflection of the depth and diverstiy of music making in Australia today. Never before has Australian music had such an important role in helping to define who and what Australia is. With that in mind, these outstanding and highly creative young artists signal that the future of Australian classical music is in very good hands.'
Brisbane-born violist, Henry Justo's proposed project explores the interaction between the individual and the technological world. The project would include collaborating with media artist Mike Daley on works for viola and electronics, as well as commissioning works by Cathy Milliken and Yannis Kyriakids. Justo is currently studying for a masters of music with Volker Jacobsen at the Hochschule für Musik, Theater und Medien in Hannover. He also plays with the Tasmanian Symphony Orchestra, and has performed with ensembles such as the Australian Chamber Orchestra (ACO), Melbourne Symphony Orchestra and Ensemble Apex.
Justo told The Strad, 'I feel incredibly honoured to be considered for the fellowship alongside two amazing colleagues and friends, something for which so many Aussie musical leaders have been recipients. It isn't often you get to dream up a fantasy project and see it take shape, so I'm really looking forward to sharing more.'
Violist Katie Yap's project Multitudes includes collaborations with Emily Sheppard, Donald Nicolson, Bowerbird Collective and Mindy Meng Wang, in which four new works would be written based on Judith Wright's bird poems. Among others, Yap has performed with the Australian World Orchestra and ACO, and is the artistic director of the Wattleseed Ensemble and 3MBS Women in Music Festival.
Recent string recipients of the award include last year's winner violinist Kyla Matsuura-Miller and current ACO violist Stefanie Farrands, who won in 2016.