In yet another instrument related flying incident, violinist Christina Bouey struggled to get her valuable violin onboard a recent flight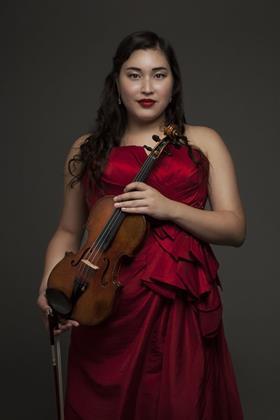 Canadian violinist Christina Bouey is no stranger to travelling with her violin, having performed extensively in the US and internationally for many years.
However, yesterday Bouey was about to embark on a journey from LaGuardia New York to Kansas City for a fundraising performance this weekend, when she encountered an experience that is becoming all too familiar with travelling string players: check her $6 million Stradivari into the hold of the plane, or get rebooked onto a later flight, 'The gate attendant gave me a pink tag to take down to the plane with me which would be to check the violin if there was no space.'
Bouey performs on the 'Artot' Stradivari of 1728 on loan since 2019 from the Juilliard School, where her ensemble the Ulysses Quartet is the graduate quartet in residence.
Bouey told The Strad, 'I have had several instances with different airlines and it's so upsetting when it happens. I haven't had issues with Delta in the past which is why I was so shocked.'
Luckily, Bouey was able to speak to a lenient flight attendant who managed to find space in the first class cabin.
This follows the events of just last week where cellist of the Attacca Quartet Andrew Yee was forced off an Air Wisconsin flight, and last month violinist with the Frankfurt Radio Symphony Orchestra Rachelle Hunt who was almost denied onboard a United Airlines flight.
Read: No 'cargo' allowed onboard: cellist kicked off Air Wisconsin flight
Read: 'We don't go with federal law' - United Airlines attendant attempts to deny violinist onboard flight