Timothy Lees has been on leave since December 2017 owing to a nerve injury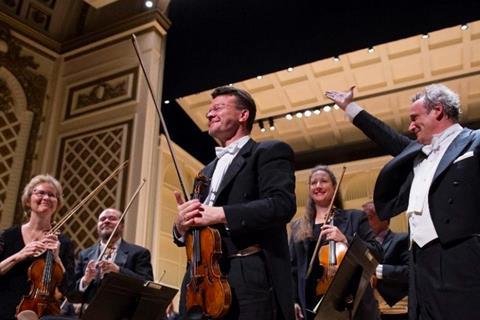 The Cincinnati Symphony Orchestra has announced the retirement of its former Concertmaster Timothy Lees, who had stepped down from the position at the conclusion of the 2017-18 season in August but retained his membership of the first violin section.
Lees, 49, who began his tenure with the orchestra in 1998, became Concertmaster Emeritus last September, but persistent medical issues relating to a nerve injury affecting the fingers of his left hand prevented him from actually performing with the orchestra.
He had, in fact, already been on intermittent leave ever since April 2016, when the condition first arose, and though he was able to join the ensemble for its tour to Asia in March 2017, and then again for the re-opening of the renovated Cincinnati Music Hall in October 2017, persisting symptoms forced him to go back on leave in December of that year.
Despite undergoing cervical spine surgery and variety of treatments including physical and occupational therapy, with which he still continues, he has not been able to return to the CSO stage since then.
'Being part of the CSO has been a great privilege and an honour,' said Lees. 'I have been truly blessed and inspired by being able to share the Music Hall stage with so many gifted musicians and artists.'
He continued, 'While the timeline for my complete recovery is still undetermined and a great chapter of my performing career has come to a close, I continue to receive treatments and eagerly look forward to exploring new paths.'
Lees also teaches violin at the University of Cincinnati College-Conservatory of Music and continues to privately teach and actively mentor graduates from populations that are historically underrepresented in classical music.
He was hired at age 28 as the 9th Concertmaster in the CSO's history by the late music director Jesús López Cobos and won critical acclaim for his Carnegie Hall debut with the orchestra performing Richard Strauss's Ein Heldenleben in 1999.
Also the Concertmaster of the Cincinnati Pops, he played under Erich Kunzel until the conductor's death in 2009, and John Morris Russell since 2011.
The CSO is hosting several guest concertmasters this seasons and is holding auditions for the Concertmaster position this month.