Jan Vogler's Moritzburg Festival is among events to go ahead, with all performances in the open air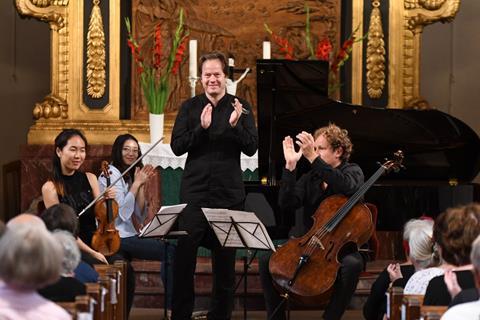 Concerts in Germany are slowly returning to normal. The Bavarian state government announced yesterday that indoor performances would be allowed for audiences of up to 100, while open-air concerts can take place for up to 200. The new policy takes effect on 22 June. However, face masks for all attendees will be compulsory, and all seats must be assigned to specifc audience members. Major events are still prohibited until at least 31 August.
'"We have decided to make things easier, but gradually and with caution," said Bavarian minister-president Markus Söder. 'The coronavirus has not been defeated.' He also said that the wearing of masks was 'the only effective measure against the virus'.
Read: Berlin study issues recommendations for orchestral distancing
Read: Fundraising campaign launched for freelance musicians in Germany
Read: Blog from the Moritzburg Festival Academy
Meanwhile in Saxony, cellist Jan Vogler's Moritzburg Festival of Chamber Music will take place from 2 to 16 August this year, with all concerts reorganised to take place out of doors. Where the performances are normally scheduled for the Moritzburg Castle, Lutheran Church Moritzburg and Kulturpalast Dresden, all will now be held on the castle's north terrace. Audiences will be limited to 160 people, and face masks will not be compulsory. The Moritzburg Festival Academy, which forms its own orchestra at each festival, will have only 16 young players - less than half the orchestra's normal size.
'For most of us, these will be the first concerts after the silence of the past few months,' said Vogler, who co-founded the festival in 1993 with his brother, violinist Kai Vogler, and cellist Peter Bruns. He has been the festival's sole artistic director since 2001.
Photo: P. Böhnhardt