The filmmaker specialised in biographical documentaries of classical musicians, including several featuring cellist Jacqueline du Pré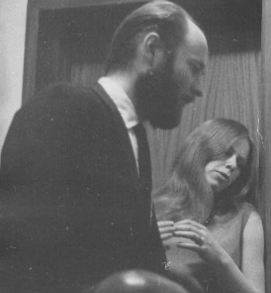 Read more news articles here
Christopher Nupen died on 19 February 2023 at the age of 88 following a long illness, confirmed by his wife, Caroline.
The South African-born filmmaker made over 75 documentaries specialising in classical music, following the lives of composers and musicians. Nupen's intimate style of filming saw musicians up close and backstage, which brought classical music to many people for the first time, breaking down the barriers between musicians and the wider public.
Nupen was born on 30 September 1934 in Johannesburg. After studying law at university, he moved to Britain to train as a sound engineer with the BBC.
In 1962 he made the film High Festival In Siena about the summer music school at the Accademia Musicale Chigiana in Siena for BBC Radio Three and was subsequently invited by Huw Wheldon to make films for the BBC. He made the film Double Concerto in 1966, featuring the collaboration of Vladimir Ashkenazy and Daniel Barenboim, which illustrated his intimate, fly-on-the-wall style of biographical film.
In 1968 he co-founded Allegro Films, one of the earliest independent television production companies in the UK. He went on to work on over 80 film and television productions about music. Possibly one of his most famous films is The Trout, featuring the performance of Schubert's 'Trout' Quintet by Jacqueline du Pré, Daniel Barenboim, Itzhak Perlman, Pinchas Zukerman and Zubin Mehta on 30 August 1969 at Queen Elizabeth Hall in London.
His close friendship with Jacqueline du Pré resulted in nine productions with the cellist. '[Working] with Jackie taught me something that added a visual quality to all my subsequent productions,' Nupen said in a 2021 article in The Strad. 'The first two, of course, are her supernatural talent and her unforgettable charisma; but the thing that made the biggest difference to her relationship with the world around her and the ever-growing public that remembers her so lovingly was the invention of the first silent, or nearly silent, 16mm film cameras.
'We took cameras to places with Jackie and persuaded her to do things that had not been done in music films before. She created a different atmosphere, a different world. Jackie's pizzicato on the train won the hearts of a new audience in many parts of the world – the camera loved her.'
The 2021 BBC documentary Listening Through The Lens showcased some of Nupen's acclaimed work from 1966 to 2017. The Oxford philosopher and historian Isaiah Berlin described Nupen's films as being 'at just about the highest-level which television is capable of reaching'.