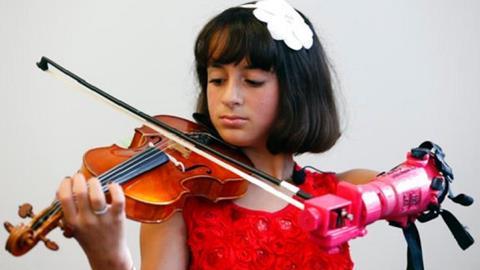 Undergraduate students at George Mason University in Virginia, US have created a 3D-printed arm to allow 10-year-old Isabella Nicola Cabrera to play the violin.
The fifth grade student, who attends Island Creek Elementary in Fairfax County, Virginia, was born without a left hand and with an abbreviated forearm.
Her music teacher had built a prosthetic which allowed her to move the bow with her left arm and to play the notes with her right hand on a left-handed instrument, but the prosthetic was too heavy.
The new 'arm', built by Abdul Gouda and his fellow bioengineering students as a final senior year project, is far lighter and easier to manipulate.
Watch Isabella Nicola testing the new arm in the Mail Online video below:
Photo: Associated Press