Savitri Grier was asked to place her on-loan Goffriller violin in the hold but was eventually allowed to board when cabin crew was consulted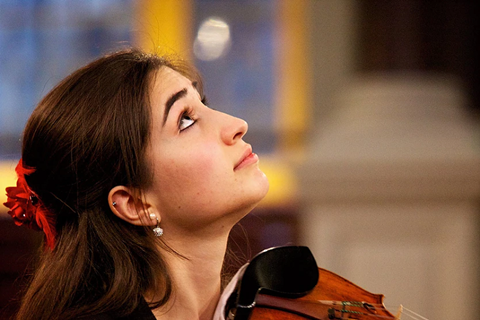 Violinist Savitri Grier has complained of poor treatment by British Airways staff while travelling from London Heathrow to Berlin over the weekend.
Grier, a former Guildhall School student currently studying on the postgraduate programme at the Universität der Künste in the German capital, was attempting to complete the final leg of a return journey from China.
'Having travelled for over 24 hours from China, the last leg of my journey was cancelled (after sitting in the aircraft for two hours) and the earliest flight I could be rebooked on was on Sunday afternoon, almost 48 hours later,' Grier told The Strad.
'At the boarding gate on Sunday afternoon, exhausted and relieved to finally be going home, I was told that because the flight was over full, I would need to check my violin in. Obviously this is not an option for my Goffriller instrument that I play on kind loan; but the BA staff at the boarding gate insisted that they tag it, although they said that usually the crew can accommodate a violin in the plane.
'However, the Grounds Crew Dispatcher refused to allow me to even ask the crew whether there was space. I was not allowed anywhere near the aircraft, and was given the ultimatum that either I could check it in, or I couldn't fly. The ridiculous thing is that 48 hours previously I'd been on board my original flight, violin accepted without a problem, and two days later, the staff seemed to have a completely different version of their policy.
'As they were in the process of removing my luggage from the hold, the Grounds Crew Dispatcher decided to allow me to ask the crew whether I could board. I was marched onto the plane, and the crew were more than happy to take my violin on board, in fact there was ample space in the overhead lockers.'
The British Airways musical instrument policy says that 'Smaller musical instruments, such as violins, violas or small wind instruments, can be carried in the cabin as part of, but not in addition to, your free hand baggage allowance'.
'It is unbelievable that I was going to be denied the chance to fly with my instrument without even checking whether there was space in the aircraft, especially since my journey had already been so elongated and disrupted, and I'd been allowed the violin on board just two days previously,' Grier commented.
'Yet another instance of British Airways' ambiguous policy towards musical instruments. I certainly won't be travelling BA again – it's not worth the risk.'
A spokesperson from the airline told The Strad: 'We are pleased that Ms Grier's violin was able to travel with her in the cabin.
'We appreciate how precious instruments are to musicians, and are working with our staff to ensure there is a clear understanding of our policy, and that a consistent approach is applied across all of our airport teams.'
Meanwhile, British cellist Steven Isserlis was also frustated with BA, taking to Twitter with the following post:
Ah - more joy with @British_Airways 'Sorry sir - there's a problem with your cello ticket. Please step aside and take your luggage.' 'I have a letter from my travel agent about it.' 'No, we don't need to see it.' Whywhywhywhywhywhy? But no, I DON'T wish I'd taken up the flute.

— Steven Isserlis (@StevenIsserlis) August 1, 2018