Violists and piano trios among players honoured in Munich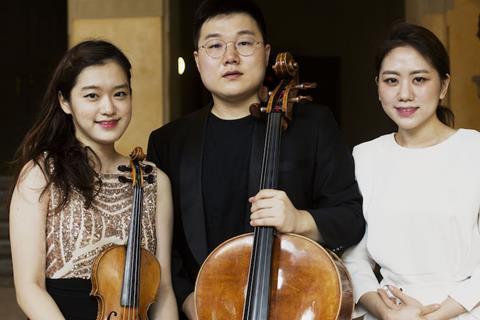 The winners of the 67th International ARD Music Competition have been announced at the Herkulessaal in Munich, Germany, with prizes awarded for viola, piano trio, trumpet and voice.
Chinese violist Diyang Mei took home both the first and audience prizes, of €10,000 and €1,500 respectively, for his performance of the Bartók Viola Concerto with the Bavarian Radio Symphony Orchestra conducted by Joseph Bastian. Mei, 24, is a student of Hariolf Schlichtig at the Hochschule für Musik und Theater in Munich.
The second prize of €7,500 went to 25-year-old Yucheng Shi, also from China, who played Hindemith's concerto Der Schwanendreher , while Japanese 20-year-old Takehiro Konoe came third, also playing the Hindemith, winning €5000. Thomas Riebel chaired the jury of Vladimír Bukač, Nicholas Cords, Nobuko Imai, Garth Knox, Maxim Rysanov and Geraldine Walther.
First prize of €18,000 in the piano trio final went to the Aoi Trio from Japan – violinist Kyoko Ogawa, cellist Yu Ito and pianist Kosuke Akimoto. Joint third prize of €9,000 was awarded to Trio Marvin – Russian violinist Marina Grauman, German cellist Marius Urba and Kazakh pianist Vita Kan – and South Korean ensemble the Lux Trio, comprising violinist Hoon Sun Chae, cellist Jae Hyeong Lee and pianist Eunyoo An.
No second prize was given, though the Lux Trio also won the Audience Prize and the prize for the performance of the commissioned work. All three groups were required to play the Kammersonate by Hans Werner Henze and one of Schubert's two piano trios. The jury of Vincent Coq, Jens Elvekjær, Stefan Mendl, Sølve Sigerland, Tanja Tetzlaff and Quirine Viersen was chaired by Amiram Ganz.
Russian mezzo-soprano Natalya Boeva won the voice category, while Selina Ott, from Austria, became the first woman in the history of the competition to take home the top prize for trumpet.