Big screen relays of the Dutch violinist's 2018 Maastricht concert took £1.66m at the UK & Ireland box office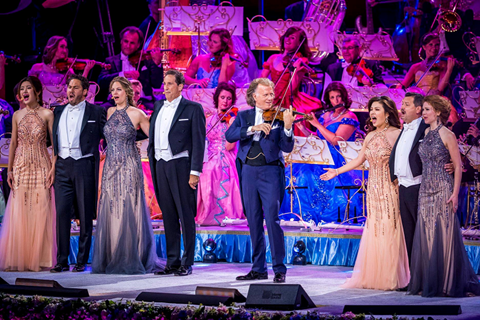 André Rieu's annual Maastricht concerts are big events in their own right but also record-breaking in the cinema too.
The 2018 concert, entitled 'Amore - my tribute to love', grossed £1.66m ($2.14m) in cinemas in the UK and Ireland, becoming the biggest cinema music concert event of all time according to comScore figures.
It also edged into the top ten of all UK event cinema titles.
Over the weekend of 28 and 29 July it was shown at over 500 screens in the UK and Ireland grossing £1,608,000 and reaching no.5 in the overall cinema box office chart, competing with Holywood blockbusters. With a few extra showings the following weekend it reached the verified total of £1,667,790.
Grainne Peat, Managing Director of the Event Cinema Association commented: 'André Rieu continues to resonate and demonstrate true affinity amongst a loyal and growing audience for event cinema content. Each year, his performances exceed the last in terms of box office takings.
'As an association we are seeking how we can better harness the excitement of this category to appeal to and attract a wider audience profile.'