Violin and lute duo explore music of delicious melancholy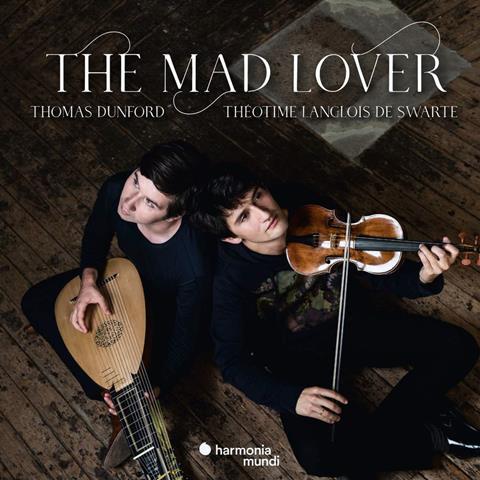 The Strad Issue: February 2021
Description: Violin and lute duo explore music of delicious melancholy
Musicians: Théotime Langlois de Swarte (violin) Thomas Dunford (lute)
Works: Music by J. Eccles, H. Eccles, H. Purcell, D. Purcell, N. Matteis and Matteis the Younger
Catalogue number: HARMONIA MUNDI HMM902305
This disc aims to focus largely on the sentiment of melancholy and re-situate the 'mad lover' of John Fletcher's 1647 tragicomedy in the reign of Charles II. Contrarily, however, much of its musical content post-dates the death of that 'merry monarch'.
The duo performs works representative of three family dynasties with technical assurance, style and insight, capturing the gravitas of the slow movements of Daniel Purcell's Sixth Sonata and Matteis's Sarabanda amorosa (Suite V) with expressive subtlety. The musicians occasionally lighten the mood and texture in sprightly, crisply articulated dance pieces, notably the fourth and sixth movements of Matteis's G major Suite, and dispatch two of Henry Eccles's sonatas like a well-oiled machine, adding tasteful ornamentation as appropriate. Ostinato bass compositions such as the two well-paced grounds by John Eccles that frame the programme are realised with a wide-ranging emotive affect and Théotime Langlois de Swarte displays cultivated virtuosity in two solo fantasias by Matteis fils.
Thomas Dunford contributes an idiomatic solo improvisation and imaginative accompaniments that offer intimacy, flexibility and textural and dynamic variety, underpinning works such as Matteis's 'Diverse bizzarie' and 'La Folia' variations with an invigorating rhythmic drive. The close recording combines immediacy, firmly focused yet transparent textures and an attractive ambient warmth.
ROBIN STOWELL
Reference
Violin and lute duo explore music of delicious melancholy