Barker was one of the first female luthiers in the UK and a successful violin making teacher, as her son Christopher Beament recalls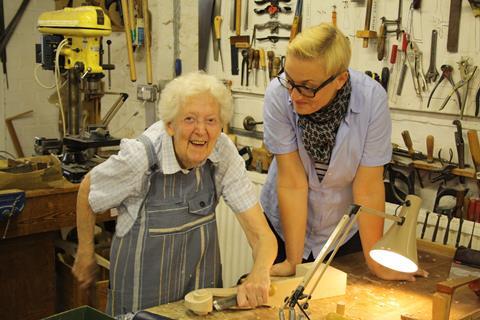 Read more news articles here
British luthier Sara Juliet Barker died on 13 August 2022 at the age of 88.
Born in Cambridge on 10 June 1934, Barker went to the Perse School, moving to Roedean School near Brighton in 1947. She learnt the violin from a young age. Following a thyroid illness which caused her to fail her university entrance exam, a rethink was needed and, as she was recovering, she first thought about the idea of being a violin maker as her love for the violin was by now profound. She spent some time in London, and having inherited her mother's friendship with Grace and Evelyn Howard-Jones who had premiered Delius's violin and piano music, she had initially harboured hopes of making a career as a violinist. After talking to John and Arthur Beare, the dealers from whom she had bought her violin, she was informed that female students had been seen at the Oberfachschule in violin making at Mittenwald. It was also thought the mountain air would do her good. This gave her the bold plan to go there to train as a violin maker.
In 1954 rationing after the war had only just ended and the memory of that awful conflict was still fresh in the memory. It would have been a brave move for anyone to travel to Germany at that time, but for a 20-year-old girl unable to speak almost any German, it was amazingly so, perhaps even foolhardy. However, she was desperate to become a violin maker and the state school in Bavaria was more or less the only such place one could do so in this era. She was lucky that upon arrival there were several other non-German students arriving at the same time, Hugo Auchli from Switzerland, Jean Schmidt from France and Rolf Wunderlich from the USA. They helped her with translating instructions in the early months of the course and made it easier than it might have been. Hugo Auchli would remain a close friend for the remainder of his life.
Gradually she settled into the course and came to embrace the mountain scenery, while learning to make violins and later repair them. She was unable to complete the full course as her father fell ill when she was two years into the course, so she returned home to Cambridge in the summer of 1956, only returning to Mittenwald to take her final exam – a period lasting a few weeks as each student had to make a violin from start to end to then be marked. Once qualified she returned to Cambridge and found a space in the Cambridge malting house to set up a little workshop and start to look for work. Indeed her journeyman certificate from Mittenwald said on it that she was the 'son of her father' as women in violin making in that era were incredibly rare, if not entirely unheard of. The fact that the newly qualified students were referred to as journeymen as well as the text on the certificate shows all too clearly just how different the world was back then.
In 1960 she was invited to start teaching a violin making class upon the suggestion of a client of hers. With just the minimum number of students needed to allow the class to begin at all, in September 1960 the first violin making class took place at the newly named Cambridge College of Arts and Technology (CCAT), ultimately Anglia Ruskin University. One of those students was Roland Gentle, a maintenance engineer at the college, and he would become a key figure as the classes gradually expanded. From the original class of six, within a few years the numbers increased and after a few years a second class was added leaving Juliet teaching on both Monday and Wednesday evenings each term.
At the same time as teaching these early classes, Juliet became involved in the music department and played viola in its orchestra. Soon after, a bass player Jimmie Beament joined the orchestra and in 1962 they were married. He was an academic, a scientist, and their honeymoon involved them attending a scientific conference in Europe and then going buying wood and bridges for violins, violas and cellos. By 1966 they had two sons, Tom born in 1965 and Christopher born in 1966.
By the 1970s Juliet was becoming well known for her violas and the violin making classes were so well attended they had been able to move into the main workshops of the college. By now Roland was also teaching alongside Juliet. They became so successful that by the end of the 1960s three weekly classes were taking place including and afternoon class on Wednesdays.
By the mid-1970s, and with the economy in bad shape, all classes that didn't lead to degrees or other qualifications were threatened with closure but, with possibly the help of an appearance on Woman's Hour, the classes were able to continue. However that appearance on the radio had an unintended consequence as a lady in Gloucestershire listening to the broadcast wrote to Juliet asking if she ever ran summer courses. With her sons now old enough to not need so much looking after and approval from her husband and most importantly of all, the college, the first summer course took place in 1978. It was very well attended, so much so that not everyone who applied could attend that first year. The following year, two courses were run allowing those who had missed out the previous year to attend. In time more summer weeks and Easter courses were added, and more teachers were hired in, initially those who had apprenticed with Juliet earlier on.
In 1984, and with Roland Gentle thinking of retiring from his post at CCAT to become a full time bow maker, a skill he had partially learnt from Garner Wilson, he and Juliet decided they needed a workshop of their own as the violin making classes were fast outgrowing the facilities at CCAT. A suitable building was found on an alleyway between Hartington Grove and Blinco Grove and, with land opposite also acquired for a car park, the only hurdles left were to obtain planing permission and to sort out both the land for the car park and the interior of the workshop. This took some time but by the beginning of 1986 they planned to have the premises ready for summer courses later that year. Roland had by now been feeling unwell for some time and eventually saw a doctor, bowel cancer was diagnosed and he died in May of that year. This left Juliet with an enormous gap to fill but with the help of many kind people the workshop was just ready for summer courses by July.
In its early days, Juliet had qualified helpers alongside her in the workshop. They would teach the classes alongside her and in the case of the ones there full time, also carry out repairs. Some highly respected names in the world of violin making came to teach the courses, such as Wilf Saunders, Malcolm Siddall and Jonathan Woolston. In the summer of 1990 Juliet was joined by Jonathan Woolston and his wife Lydia, and a bow maker, Richard Wilson, all to work full time and teach in the newly formed bow making evening class. Perhaps though the most important change at this time was the arrival of Juliet's younger son Christopher to become her apprentice. It wouldn't have been apparent to start with, but much later on he would eventually take over the running of the shop right up to the present day. 1990 also saw a concert arranged to celebrate thirty years of the classes with a string orchestra performing entirely on instruments made in the classes.
The Cambridge Violin Makers workshop as it had become was, by now, so well known that six daytime and evening classes and six weeks of summer courses were being run each year with up to 150 different people attending each year. More classes were introduced, taught by specialists in their fields, including furniture restoration, wood carving, wooden toy making and painting in watercolour. The workshop was by now an arts and crafts centre. When Jonathan Woolston decided to leave and set up his own workshop nearby Juliet's son Christopher was competent enough to fill the void with some extra hired help being brought in to teach some of the weekly classes and especially the summer courses. 1999 also saw the foundation of the Rowan Armour-Brown Trust, a charity to help young violin makers entering the trade ad she was one of the original trustees.
By the time of the millennium the courses were in rude health, as people were coming from all over the world to attend the summer courses, and up to 200 people were attending the various classes each year. A 40th birthday concert was organised with a bigger venue and a bigger orchestra playing again only on instruments made in the workshop. Over the following years Juliet gradually started to ease up on the teaching and by 2004 the classes were being taught by others, with her acting as more of a figurehead to the workshop but still making several instruments each year, mostly violas. She was approached to write a book on the subject of violin making, published by Crowood Press, Violin Making – A Practical Guide – the book was so successful that it has just been re-issued as a paperback. 2005 brought sadness as her husband Jimmie died in March of that year but also a personal landmark as in December of that year she was awarded an MBE for her services to music and violin-making.
In 2010 a 50th anniversary concert was organised. Over the following decade Juliet became gradually more frail and in this period her son Christopher took on more and more responsibility for the running of the workshop eventually taking over entirely. She was still making instruments and calling in to visit all the classes each week and through the summer. Plans for a 60th anniversary celebration were scuppered by the outbreak of Covid. Despite the impact that had on the whole world, the workshop was able to survive and in the most recent year the courses were getting close to back to where they had been in terms of numbers a few years earlier.
Juliet's legacy will not only be the workshop she founded, but also as a pioneer and trailblazer. As one of the very first women to work as a violin maker in the UK she forged a path that would give so many other women the desire and belief that they too could be successful makers and work in the trade. In addition, the sheer number of students who attended the courses and then went on to take up a full time career in the trade is considerable. There are so many contemporary makers around the world who owe their careers to the initial inspiration that came from attending the courses she ran.