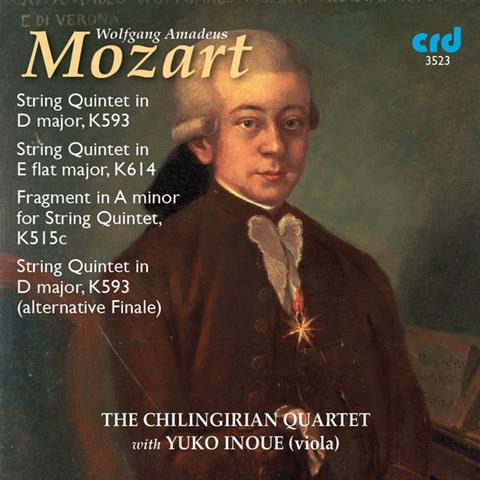 THE STRAD RECOMMENDS
The Strad Issue: January 2017
Description: The Chilingirian completes its survey of Mozart's six quintets
Musicians: Chilingirian Quartet, Yuko Inoue (viola)
Composer: Mozart
Catalogue number: CRD 3523
These loving performances, which complete the cycle of Mozart quintets made over the past decade by the Chilingirian Quartet with violist Yuko Inoue, are imbued with a spirit of collegial enjoyment and discovery. Such a spirit might have informed those quartet and quintet parties in Vienna late in 1790, when Haydn was able unexpectedly to join his younger friend in playing together the new D major Quintet K593. Having rushed to the capital from remote Eszterháza (following the death of Prince Esterházy on 28 September) in the middle of preparations for conducting Figaro there, Haydn was now much taken with the mysterious slow introduction and its unexpected return towards the end of the first movement.
He was himself just finishing a set of six quartets for his Hungarian violinist colleague Johann Tost and I wouldn't mind betting that the last two of these, in D and E flat major, were also tried out at some of these informal gatherings. Haydn then left, just as suddenly, for London on 15 December with the violinist–impresario Johann Peter Salomon, taking his quartets with him. At that point, Mozart wrote a new Quintet in E flat major (K614) in April 1791 (maybe for Tost too), and its resemblance to Haydn's op.64 no.6 in the same key is too close to be merely coincidental: this must surely be a heartfelt tribute to the Papa Haydn he feared he might never see again.
I am only sad that the Chilingirians omit some crucial second-half repeats in some of these movements – but these are infectious, vividly inflected performances which, in such an open and brightly projected Potton Hall recording, are now a natural top recommendation. The little A minor fragment has Mozart audibly losing interest as he goes along and the copious booklet notes by Hugh Wood could do with a review all to themselves.
Geraint Lewis