The candidates will compete for $86,000 in prizes – including a top prize of $30,000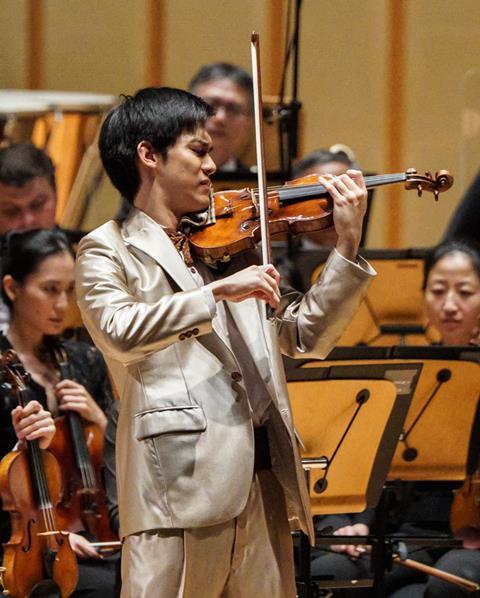 The 2016 Montreal International Music Competition – this year dedicated to the violin – has named the 24 shortlisted candidates who will compete in the live rounds between 22 May and 2 June. The 16 women and 8 men from 13 countries will compete for over $86,000 in prizes – including a top prize of $30,000 and concert engagements.
This year's shortlist includes a number of players familiar to the competition circuit, including 2015 Joseph Joachim International Violin Competition Hannover third prize winner Richard Lin (pictured); 2015 Singapore International Violin Competition third prize winner Sirena Huang; 2012 Menuhin Competition Senior Division winner Kenneth Renshaw; 2013 Rodolfo Lipizer International Violin Competition winner Fedor Roudine; Tchaikovsky Competition 2015 finalist Bomsori Kim; and 2015 Joseph Joachim Violin Competition fifth place laureate Ayana Tsuji.
The full list of candidates is as follows:
Laura Bortolotto, Italy
Richard Lin, Taiwan/United States
Elina Buksha, Latvia
Albrecht Menzel, Germany
Daniel Cho, United States
Diana Pasko, Russia
Clémence de Forceville, France
Liya Petrova Konyarova, Bulgaria
Sirena Huang, United States
Kenneth Renshaw, United States
Petteri Iivonen, Finland
Fedor Roudine, France
Bomsori Kim, South Korea
Ji Won Song, South Korea
Gyehee Kim, South Korea
Elly Suh, United States/South Korea
Woo Hyung Kim, South Korea
Mai Suzuki, Japan
Mariya Krasnyuk, Ukraine/United States
Ayana Tsuji, Japan
Ji Eun Lee, South Korea
Xiao Wang, China
Christine Lim, United States
Minami Yoshida, Japan
The 2016 candidates, each aged under 29, will perform for an international jury comprising Pierre Amoyal (France); Boris Brott (Canada); Boris Garlitsky (Russia); Ida Kavafian (Armenia/United States); Mihaela Martin (Romania); Vera Tsu Wei Ling (China); and Kathleen Winkler (United States). This year's pre-selection jury included Jonathan Crow, Boris Kuschnir, Douglas McNabney, Lucie Robert, and Andrew Wan.
The Montreal International Music Competition takes place annually in, by turns, violin, piano and voice categories.