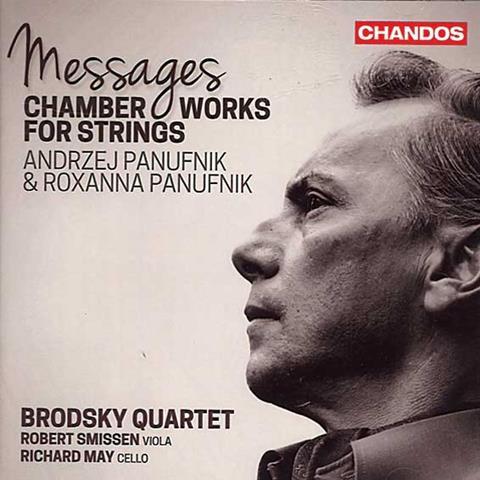 The Strad Issue: February 2015
Description: A celebration of a composing father-and-daughter relationship
Musicians: Brodsky Quartet, Robert Smissen (viola) Richard May (cello)
Composer: A. Panufnik, R. Panufnik
Released to mark the centenary of Andrzej Panufnik's birth, this disc features all three of his string quartets, a form he resisted until his early sixties. They are interspersed by the two movements of his daughter Roxanna's Memories of My Father, commissioned by the Brodsky Quartet: the first is an arrangement of Gesualdo's motet O vos omnes prefaced by a searing, densely homophonic original introduction, while the latter incorporates the sound of plucked bouzoukis, reflecting childhood holidays in Greece. The disc is framed by a pair of sextets: the first, Modlitwa (Prayer), is an arrangement by Panufnik junior of one of her father's with an additional middle section; the second is Andrzej's own version of his choral Song to the Virgin Mary. The expanded Brodskys capture the prayer-like, sustained quality of these sextets, but the foursome's talents are even better highlighted in the string quartets.
The players make strong individual impressions in the Prelude of the String Quartet no.1 and after a more homogeneous central movement, the Postlude draws them into a wild, communal chatter. Throughout the disc the Brodsky players maintain a clear focus, from the glinting, almost reedy opening Adagio misterioso of the Second Quartet to the abrasive, folk-inflected moto perpetuo finale of the Third. The warm, colourful recording doesn't make these sometimes gnarly works any easier to digest in a single sitting, but the disc remains a fascinating centenary tribute.
EDWARD BHESANIA