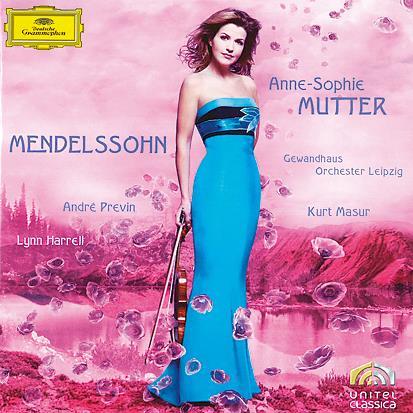 The Strad Issue: January 2009
Musicians: Anne-Sophie Mutter (violin) Lynn Harrell (cello) André Previn (piano) Leipzig Gewandhaus Orchestra, Kurt Masur (conductor)
Composer: Mendelssohn
Anne-Sophie Mutter has been one of the better German violinists for 30 years now, so it is probably too late to expect her to fulfil the promise that seemed so abundant back in the 1970s. The limitations that have prevented her from scaling the ultimate heights are all too apparent in this strange package. We get the same music twice, in audio and video form, and as I far prefer the latter, I shall mostly deal with it.
The Violin Concerto, recorded live in concert, starts quite sweetly, if tremulously, but the second subject gets a bit sticky and loses rhythmic underpinning. A nice gutsy cadenza is a highlight and Mutter's spiccato is splendid. The orchestral preparation leads me to expect a slower tempo for the Andante but Mutter is quite brisk and efficient – I cannot recall being less moved by this lovely music. The finale varies between the over-fluent and the pedantic, with one welcome personal touch towards the end.
The chamber music is played straight through in the empty Brahmssaal at the Vienna Musikverein. The DVD gives us an ample acoustic, which is all to the good, masking some of the strings' excesses. André Previn plays splendidly in the Trio but the strings are sentimental in the Andante. The faster movements are all right.
The 1838 Violin Sonata brings too much swooning from Mutter, but at least Previn is a vast improvement on her usual pianist and holds everything together. Mutter makes a palpable effort to put expression into the Adagio but it sounds no more sincere than Mrs Thatcher quoting St Francis of Assisi.
The CD seems to contain much the same performance of the concerto, but I think the audio versions of the chamber works stem from more than one take. The sound throughout tends to bring out what I least want to hear: the all-purpose, all-weather warmth of Mutter and Lynn Harrell in the trio, the slight shrillness of Mutter in the sonata, not to mention her lapses into mawkishness in its Adagio.
I hope Deutsche Grammophon will let Repin record the concerto. His interpretation is of an altogether higher order.
TULLY POTTER