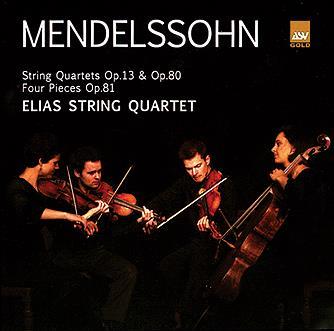 The Strad Issue: January 2007
Musicians: Elias Quartet
Composer: Mendelssohn
The Elias Quartet gives fully committed accounts of Mendelssohn's two most impassioned and adventurous quartets, combining commendable musical intelligence with youthful élan, tenderness and fantasy. Following the poise of the A minor Quartet's thoughtful, song-based prelude, these players launch headlong into the electrifying Allegro vivace, capturing its emotional turbulence with their variegated canvas of tone colours and dynamic nuances. They give the heavily charged slow movement due space, expression and meaning as the work's kernel, building the chromatic fugato section to an anguished climax; unfortunate, though, is their wavering, sour final chord. They dispatch the attractive intermezzo athletically and delicately (despite some cumbersome accompanying pizzicatos) and give a dramatic and powerfully wrought account of the finale's impassioned recitative sections, thematic reminiscences and contemplative postlude.
For all Sara Bitlloch's heartfelt expression and high-voltage violin playing, these players' account of the grief-stricken F minor Quartet fails to demonstrate the unanimity and expressive emotional intensity of many comparable ensembles. Some rough edges remain to be honed in the agitated and dramatically intense outer movements, but the powerful unisons of the macabre Scherzo are arrestingly characterised and the emotional melancholy of the elegiac Adagio is expressively conveyed.
Bitlloch and her colleagues perform Mendelssohn's Four Pieces op.81 as well as any ensemble on disc. They present them chronologically, pacing the Fugue with musical intelligence, combining lyrical contemplation with contrapuntal energy in the Capriccio, characterising skilfully the Andante's variations and performing the Scherzo with charming delicacy. The recorded sound is warm and expansive and the balance exemplary.
ROBIN STOWELL