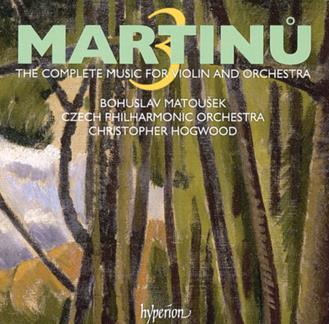 The Strad Issue: January 2008
Musicians: Bohuslav Matoušek (violin/viola) Czech Philharmonic Orchestra, Christopher Hogwood (conductor)
Composer: Martinu
Martinu is a composer whose versatility never ceases to surprise, even though (like Hindemith) he is sometimes unfairly spurned as being over-productive, stylistically disparate and lacking the distinct idiom of his compatriot Janá?ek.
Christopher Hogwood – not a conductor one usually associates with this repertoire, but with fine Bohemian credentials (he studied in Prague) – produces zestful, masterly playing from the Czechs' finest orchestra, and confirms the sparkling variety and almost effortless mastery of this fertile Czech composer, for whom he displays evident enthusiasm.
Hyperion serves up a masterly soloist in Bohuslav Matoušek, a pupil of Grumiaux and Milstein and former member of the Stami? Quartet, who here demonstrates his own versatile range on both violin and viola.
The Suite concertante was written for Martinu's contemporary, the Polish-born American violinist Samuel Dushkin, and coincided with the composer's love for Vít?zslava Kaprálová, the girl pupil he dubbed his 'pisni?ka' ('little song'). The second version was written for the Ukrainian–American violinist Jascha Veissi, a former leader of the Cleveland Orchestra, who with an adroitness to match Matoušek's became principal viola of the San Francisco Symphony and a member of the world-famous Kolisch Quartet.
Each version of the suite is stupendously well-played, proving full of charm, zest and panache; while in the two-movement Rhapsody-Concerto Matoušek gives equal delight on the lower instrument. His cadenza-playing is particularly accomplished, and his rapport with this superlative orchestra could scarcely be bettered. The recording, made in Prague's famous Rudolfinum recital room, is immensely pleasing and lucid.
Roderic Dunnett