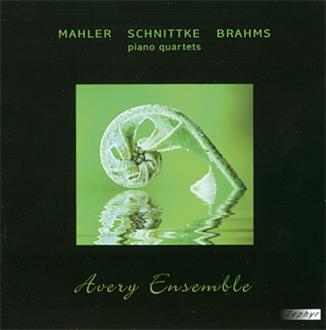 Musicians: Avery Ensemble
Composer: Mahler, Schnittke, Brahms
The Avery Ensemble, based in Connecticut, plays a wide repertoire for strings and piano in various combinations. Its debut CD features the group in a cornerstone of the piano quartet literature as well as Mahler's only surviving chamber music piece, logically paired with a piece inspired by it.
Mahler's Piano Quartet sounds to me as if written by Schumann in the latest stages of madness, with an obsessively lamenting minor 6th permeating the piece's whole texture. Maybe it is just as well that he completed only one movement, since it is hard to imagine quite what might have followed it. A hundred years later, Mahler's sketches for a Scherzo were set by Schnittke within a postmodernist, cluster- and glissando-ridden frame. This unlikely coupling makes unexpectedly logical sense, and the Avery Ensemble milks both pieces' exacerbated Romanticism for all it's worth – and then some.
Brahms's G minor Piano Quartet is given a monumental reading, one that kept reminding me of Schoenberg's orchestration of the piece. Tempos are slower than usual, particularly so in the Intermezzo, which sounds heavy-footed. Elsewhere, the work's grandeur is stressed somewhat to the detriment of its youthful fire. The gypsy finale is a quite sober affair, especially when compared to what Argerich, Kremer, Bashmet and Maisky make of it (Deutsche Grammophon). Nevertheless, the musicians' great love for this music shines through in every bar, thanks to the eloquence of their tone and phrasing. Balance within the strings and with the thick piano part is perfectly achieved within a generous acoustic.
Carlos María Solare