These photos were published in the The Strad's June 1989 alongside an article by John Dilworth, from which the below text is extracted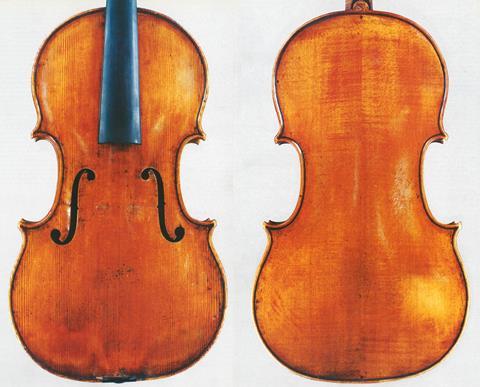 'One of the finest Italian instruments in existence' states the Hill certificate of 1912 accompanying this beautiful viola; it is as true today as it was then. Exciting visually, musically and historically, it is a wonderful subject for study.
…
This great viola of Andrea's is of historical importance not merely because it is one of the few Cremonese violas and of the purest and best at that, but also because of its size. The violas made by Gaspar, Maggini, and Andrea and the brothers Amati, were mostly of the large tenor size. The surviving altos from all these makers can be counted on one hand. Andrea Guarneri was the first to concentrate on the smaller pattern.
…
The outline is a gorgeous contrivance of flowing lines and perfectly weighted Cremonese proportions that give no hint of awkwardness, despite considerable inequalities from side to side and front to back.
…
The edges are extremely deeply gouged, particularly so in the corners; it has been said that the resulting thinness of the edges of the plate is an important factor in dark viola sound … The character of the edgework comes from the accentuated ridge running exactly halfway between the purfling and the perimeter and although the purfling mitres are long and elegant and do not overrun the trough cut for them, the corner extends far beyond with a full bulbous thickness. Thus, although the wood of the back is comparatively plain, interest is focused on the gouge-marked and varnish-filled channel, with is plump well-turned edges like a tempting pie crust.
…
The wood of this viola is extraordinary. The back has only the faintest shimmering figure, and is of two pieces cut exactly on the quarter with very fine grain. The ribs and scroll, perversely, are of extremely tightly figured wood which one would think entirely unsuitable. The ribs were indeed difficult to shape, judging from the differing slope of each one from the perpendicular and the resulting disparity of front and back outlines.
The front is of good strong reedy wood which moves away from the quarter at the edges, and contains a substantial knot in the top bass bout. Not for the perfectionist, maybe, but fit enough for its purpose.
…
What finally elevates this viola to the highest rank is its almost entire coat of fine yellow varnish. Although the ground has the faintest green tinge, the top varnish has a honey richness and, in the corners and on the scroll, a fine crackled texture. I would not describe it as perfectly transparent, but the slightly occluded warmth does not mask any of the subtlety of the wood beneath.