As new research into El Sistema-inspired projects in England is announced, Michael Quinn asks if too much is expected from, and invested in, imports of the fabled Venezuelan music education programme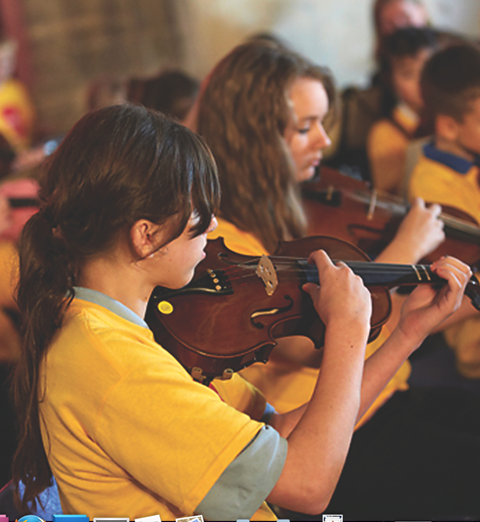 News that academics are to study the cultural value of projects in England inspired by El Sistema puts renewed focus on the relative merits of imported versions of Venezuela's much-vaunted music education programme.
The University of East Anglia's Mark Rimmer, who will lead the research, says its aim is to 'develop a framework that can help advance the way we think and talk about the value of cultural engagement. It's not to measure the relative successes or failures of El Sistema.' But there are questions to be asked about the promised social benefits of Sistema schemes, and the attention and funding such projects attract.
From humble beginnings in Venezuela nearly 40 years ago, El Sistema has become a global phenomenon, with educators, musicians and politicians evangelically asserting its ability to affect everything from individual development for participants to stronger, more cohesive communities, and lower crime rates. It would almost seem as though music education is a miraculous panacea for modern social ills.
El Sistema's rise in England has been swift. Following a headline-grabbing appearance at the 2007 BBC Proms by the programme's high-profile graduates, the Simón Bolívar Youth Orchestra, cellist Julian Lloyd Webber launched a charity (now called Sistema England) advocating the adoption of Sistema principles in the UK. The government financed the In Harmony pilot project in 2009 and promised further support in its National Plan for Music Education.
Last year four new In Harmony projects at a cost of £2m were announced, bringing the number of funded English projects to six, with an independent programme also operating in Norwich (pictured). It's a trend that mirrors Sistema's seemingly irresistible rise in America, Europe and as far afield as India.
But some have begun to ask whether Sistema's claims of social transformation are valid and the money spent on it a sensible investment.
'There's a mythology that has grown up around El Sistema,' says Jonathan Govias, assistant professor and director of orchestras at the University of North Carolina, and a music education consultant. 'But if you look at Sistema projects in North and South America and Europe, you'll see nothing different from any conventional music education system.'
For John Shayler, chairman of the European String Teachers Association (UK), the position of Sistema projects in England is an incongruous one. 'Any initiative that brings instrumental tuition to children is to be encouraged, but to call it El Sistema – at a time when music services and peripatetic teaching is collapsing all over the country – is to raise considerable expectations without having the structure the Venezuelan model had.'
In its home country Sistema watches over 125 youth orchestras and reaches almost 400,000 children from poor socio-economic backgrounds. It is regarded as a national network rather than the miracle-working 'system' adoptees elsewhere largely consider it to be.
Advocates wishing to import Sistema into their own territories as a tool for social betterment need to be wary of the claims made for it, cautions Govias, who declares himself firmly in support of the idea, but not entirely convinced by the practice. 'There is some evidence, but not an overwhelming body of such, that it has some social benefit, but we're not entirely sure what it will be yet. It does improve scholastic attention but crime in Venezuela has increased, not decreased, in the past ten years, so what are we importing?'
Already, stark contrasts between Venezuelan and English practices are emerging, as Marcus Patteson, director of the independent Sistema Norwich programme points out. 'Sistema isn't a "system", as such. Its principles have long been a part of music education in the UK but we're much more constrained here. England is where Venezuela was 30 years ago. There the average child gets in the region of 24 hours' Sistema contact a week. That would be impossible in the UK: in Norwich our target is seven to ten hours. There are definitely questions about who can, or should, call themselves Sistema.'
Govias says it is important for Sistema advocates to consider what they're trying to achieve by adopting the programme. 'Is it to lower the crime rate? Or is it to provide outstanding, immersive music education for young people? That should be enough of a goal, and have enough intrinsic value and benefit, in itself.'
This article is published in the November 2013 issue of The Strad. Subscribe to The Strad or download our digital edition as part of a 30-day free trial.
Photo: Pete Huggins