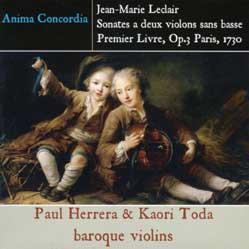 The Strad Issue: March 2015
Description: Proficient performances of Leclair's Italian–French fusions
Musicians: Anima Concordia
Composer: Leclair
Husband-and-wife Baroque violin duo Paul Herrera and Kaori Toda form a technically assured and cohesive partnership in these accounts of Leclair's Six Sonatas op.3. They thoroughly acknowledge Leclair's marriage of Italian and French styles in these duets, performing Vivaldian concerto-inspired movements such as the opening allegros of nos.2 and 4 with crisp incisiveness, shapely phrasing and not a little virtuosity, and they give due recognition to his dance predilections, especially in the gratioso movements of nos.4 and 5. They characterise typically French movements such as the musette centrepiece of no.1 and the tambourin-like finale of no.6 with imagination and verve, and revel in the surprising harmonies of the Andante and Largo of no.6. Tempos are well judged throughout, graces are faithfully executed, extempore ornamentation is tastefully introduced and rhythms are occasionally infused with a subtle inequality.
Captured in 2009, the recording is well balanced and gives the period violins a pleasing bloom, making the duo's double-stopping in the introductory slow sections of nos.3 and 6 resemble the sonority of an organ. However, though substantially accurate and proficient, these performances are not totally compelling; their dynamic range is narrow and the outcome is somewhat monochrome.
ROBIN STOWELL