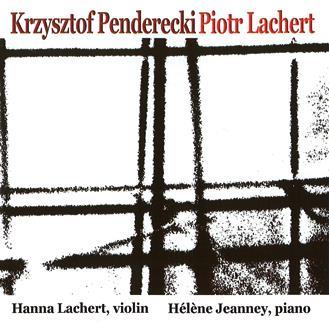 The Strad Issue: January 2008
Musicians: Hanna Lachert (violin) Hélène Jeanney (piano)
Composer: Penderecki, Piotr Lachert
This disc was recorded to mark Penderecki's 75th and Lachert's 70th birthdays. The accompanying booklet is irritatingly coy about the fact that violinist Hannah Lachert is Lachert's sister: it's only alluded to in Lachert's programme note for his Sonata no.9, which is dedicated to her. The whole project is something of a family affair, being recorded on her husband's record label. But it's actually an interesting and competently performed disc, with Lachert's two quirky and characterful pieces sitting well with Penderecki's spiky Second Sonata.
A bright and crisp recorded sound lends added shine to Hannah Lachert's perfectly controlled yet vividly imagined reading of the Penderecki. The furious, dashing spiccato of the caprice-like Allegretto scherzando has real brilliance, while the darker musings of the lengthy Notturno are beautifully paced, described with a broad, sweeping tone. The writing here is oddly Brahmsian in places, with rippling piano under a soaring violin melody, but both Lachert and pianist Hélène Jeanney take in their stride the sudden shifts from Romantic musings to more edgy figurations.
The two Lachert works are played with equal flair, aside from a few slight tuning issues in the Sonata no.9, for solo violin. Hannah Lachert shows impeccable control in the racing Inizio, from which some lovely passages of cantilena emerge. A subtle Baroque flavour colours the music here and there, which she fully exploits. Sonata no.17 is richly expressive, particularly in the nervous edge to the lyrical second movement: here the two players sustain the dramatic tension right through to the fiery scherzo and explosive, 18-second finale.
Catherine Nelson