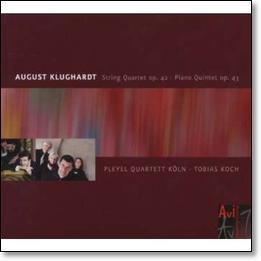 The Strad Issue: January 2013
Description: A revival of a neglected 19th-century composer's music on period instruments
Musicians: Pleyel Quartet, Tobias Koch (piano)
Composer: Klughardt
August Klughardt (1847–1902) is one of the forgotten figures of German music, yet his profile is an interesting one, straddling both Wagner and the Classical style. The results here are not always a happy marriage. The Quartet is studied in its scholarly bearing, while the Piano Quintet is appreciably more dramatic, even if this can lead to outer movements so heavily bedecked in chromaticism that they seem somewhat hectoring.
The performances here testify to present-day interest in older performing practices. The Pleyel Quartet, formed in 2004, claims to have undertaken a careful study of 19th-century string playing. Tobias Koch, winner of Düsseldorf's endowment award, has a deep knowledge of period piano playing (here playing an 1839 Erard). The result has the warmth of our best understanding of pure-toned 19th-century playing, but there are limitations – it's a shame that sparing vibrato isn't wedded to well-documented rhythmic flexibility and, for that matter, that one can count the number of portamentos on the fingers of one hand. Koch, too, might be censured for not using the ubiquitous arpeggiation of the period, which might have avoided the rather woody piano tone. This said, there is fine playing here in an enterprising, unusual and well-recorded disc.
DAVID MILSOM