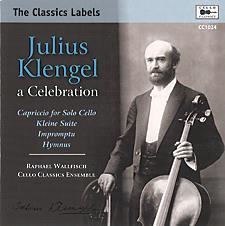 The Strad Issue: January 2012
Description: A worthy tribute to a great cellist–composer and teacher
Musicians: Raphael Wallfisch*, Julius Klengel† (cello) Cello Classics Ensemble
Composer: Klengel, Bach, Tartini, Cossmann, Popper
This disc pays tribute to Julius Klengel (1859–1933). Born in Leipzig, he played in the city's famous Gewandhaus Orchestra for 50 years and taught generations of cellists including Feuermann, Suggia, Pleeth and Piatigorsky. Remastered recordings of Klengel playing short encore pieces alternate with new recordings of his own compositions.
Klengel's playing emerges from an overriding hiss, but his penchant for one-finger slides, very in-your-face compared with the subtle portamentos of today, comes across clearly. In the reedy sounds, it's harder to detect the 'overpowering' tone that astonished contemporary critics, but it is certainly fascinating to hear Klengel in the upper line of the Sarabande from Bach's Sixth Suite, while a piano accompaniment fills in the double-stopping.
In Klengel's compositions, Raphael Wallfisch puts himself through his technical paces in the competition set piece Capriccio, while Cello Classics's founder Sebastian Comberti plays first cello in works for two, three and four cellos. Beauty of sound is paramount here: the instruments blend exquisitely in a honeyed mix of affecting suspensions and mellifluous harmonies. Hymnus, with its magical sunrise-like opening, is rightly the disc's musical high point. Guy Johnston takes the top part here, his rapid vibrato making the line shimmer, and the myriad textures are stunningly captured in the high-quality recorded sound.
JANET BANKS