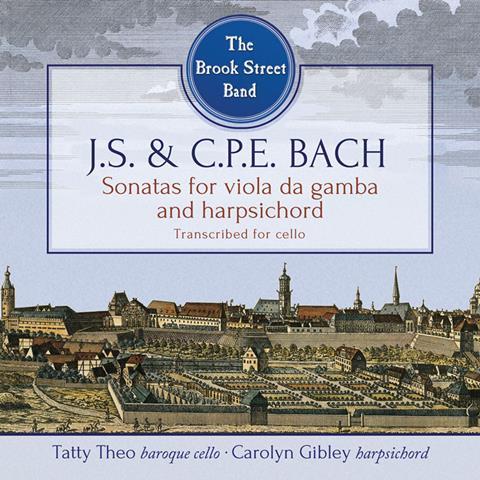 The Strad Issue: July 2015
Description: Gamba sonatas recorded for the first time on Baroque cello and harpsichord
Musicians: Brook Street Band: Tatty Theo (Baroque cello) Carolyn Gibley (harpsichord)
Composer: J.S. Bach, C.P.E. Bach
Tatty Theo and Carolyn Gibley claim that these gamba sonatas are recorded here for the first time using a regular four-string Baroque cello. In truth, BWV1027 does not lie well for the cello and Theo's performance suffers accordingly from some tonal imperfections, particularly in the work's two fast movements and its pastoral opening Adagio, which lacks conviction. She fares much better in BWV1028, where the tightly knit synergy between her and Gibley is clearly evident in the imitative dialogue of the Adagio and the solemn, expressive Andante. In the real tour de force, BWV1029, these performers adopt a fairly restrained tempo for the Vivace's complex polyphony and bring poise and beauty to the richly coloured Adagio. Their final Allegro, though, seems too fast for Theo's comfort.
The 'filler' is a gamba sonata by Carl Philipp Emanuel Bach, the latest (1759) of his three (the earlier two are scored with basso continuo). The strong individual character of this duo's playing brings out the Sturm und Drang elements in the composer's language, especially in the central Larghetto. However, some articulation problems and scrambled passages besmirch their animated, conversational interplay in the outer Allegro movements. Captured close up in a resonant acoustic, the recorded sound and balance are variable.
Robin Stowell