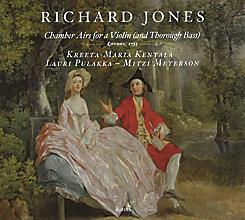 The Strad Issue: January 2012
Description: Well-characterised performance of a mid-17th-century English collection
Musicians: Kreeta-Maria Kentala (violin) Lauri Pulakka (cello) Mitzi Meyerson (harpsichord)
Composer: Jones
Richard Jones's eight Chamber Airs are strikingly inventive. Comprising three or four movements, they are essentially Italianate in style, but also incorporate French dance elements and some Purcellian harmonies.
Although Kreeta-Maria Kentala's violin occasionally sounds more modern than Baroque, notably in the Allegros of nos.4 and 6 and the final Vivace of no.2, she meets Jones's technical challenges head-on and exploits a wide-ranging expressive palette. She articulates his unusually proportioned phrases sensitively, emphasises harmonic surprises, embellishes tastefully and uses vibrato effectively. Her preludios demonstrate striking spontaneity, not least the dramatic, florid material of no.2.
However, the close of no.4's Preludio seems odd; without the music to hand it is impossible to ascertain whether it reflects the composer's eccentricity or a producer's error. The various dance-influenced movements are well characterised, particularly the allemandes of nos.1 and 2 and the spirited final gigues, including the somewhat rustic nos.1 and 6. Rubato is gainfully employed throughout.
Lauri Pulakka and Mitzi Meyerson are alert and supportive colleagues. They contribute especially to the contrasting colours of the Largo in no.2; and the intimate violin–cello dialogue in the Largo of no.8 is hauntingly conveyed without keyboard realisation. The close-miked recording picks up non-musical detail but is resonant and well balanced.



ROBIN STOWELL