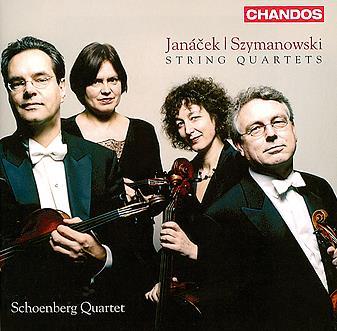 THE STRAD RECOMMENDS
The Strad Issue: January 2007
Musicians: Schoenberg Quartet
Composer: Janacek, Szymanowski
Coupling the Janá?ek and Szymanowski quartets together was an inspired idea, one that as far as I'm aware hasn't been attempted on disc before. Both composers proudly carried the torch of their respective Moravian and Polish traditions into the first quarter of the twentieth century, both went to the brink of atonality but pulled back from full immersion, and both wrote magnificently for string instruments.
Janá?ek's two quartets were written at white heat, the first (the 'Kreutzer Sonata', named after Tolstoy's novel) in just a few days during 1917, the second ('Intimate Letters') in three weeks in early 1928. The Schoenberg Quartet combines the technical suavity of the Smetana Quartet (Testament) with the searing insight of the Talich (Calliope). As a result, when in the third movement of the first quartet Janá?cek interrupts the music's lyrical flow with outbursts of hectoring sul ponticello, the effect is far more disturbing than usual, especially as it is experienced against the warm glow of Chandos's velvety engineering. I still find the urgent spontaneity of the Gabrieli Quartet (Decca) uniquely compelling in this music, but for a semantically wrong-footing overview, texturally illuminated by the Schoenberg Quartet's first violin–cello–viola–second violin layout, collectors need look no further.
Competition in the Szymanowski quartets is less keen, but even bearing in mind fine versions, differently coupled, from the Goldner (Naxos) and Maggini (ASV) quartets, the Schoenberg Quartet captures the unique combination of heady French perfume and German decadence that lies at the heart of Szymanowski's creative personality with formidable acuity.


JULIAN HAYLOCK